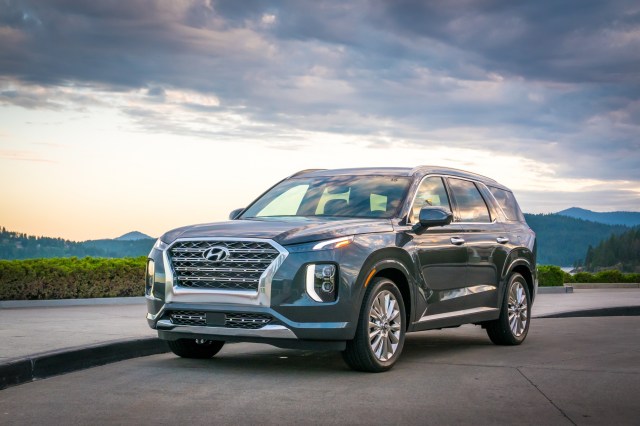 It's the ultimate vehicle of 2020.
At least according to Cars.com, which named the Hyundai Palisade best of the year among vehicles that are new or fully redesigned for the model year.
Palisade bested five other vehicles, including its corporate cousin Kia Telluride.
"Hyundai's all-new Palisade has all the features needed to cement it as our Best of 2020," said Jenni Newman, editor-in-chief of Cars.com digital marketplace. She cited a "combination of utility, refinement and value as well as an impressive warranty [that] made it a clear winner for our best car of the year."
Following are the other best-of-the-year winners and their categories, followed by other top contenders:
Chevrolet Silverado 2500/3500, Best Pickup Truck of 2020 (new or fully redesigned)
Chevrolet Silverado 1500 Diesel
Ford Ranger
Jeep Gladiator
Ram 1500 EcoDiesel
Ram 2500/3500
Volkswagen Atlas, Family Car of the Year (all 2020 models considered)
Ford Expedition
Hyundai Santa Fe
Hyundai Veloster N, Most Fun-to-Drive Car of the Year (all 2020 models)
Ford Mustang
Jeep Wrangler
Ram 1500 Laramie Longhorn/Limited, Luxury Car of the Year (all 2020 models)
BMW X7
Mercedes-Benz S-Class
Cars.com will announce its Eco-Friendly Car of the Year on Earth Day, April 22.
In its review of the overall winner, Cars.com said, "Hyundai's all-new Palisade has the credentials for a good family SUV, such as roomy second- and third-row seating, but Hyundai went well beyond that."
The panel also cited Palisade's combination features compared to the other contenders, which included the BMW X7, Hyundai Veloster N, Kia Soul and Toyota Corolla Hybrid. The Palisade's pricing starts in the low $30,000s and tops out with factory options around $47,500.
The most "astounding" selection was Luxury Car of the Year, where the Ram 1500 Laramie Longhorn/Limited surpassed BMW and Mercedes-Benz, becoming the first truck to ever win the Cars.com Luxury category, according to Newman of Cars.com.
"It's really kind of astounding, but if you've been in these trims and in this truck, you may not be surprised that it won," Newman told USA Today. "This truck really blew us away."
Winners in the three car categories were selected by Cars.com's panel of vehicle and industry experts, who based their decisions on three key criteria for every car tested: quality, innovation and value. Criteria for the pickup truck category were power, capability and value.
The two highest honors are Best of the Year and Best Pickup Truck of the Year, according to Cars.com. Videos of all the winners are posted at Cars.com.