Most of us are taught to see depreciation as a bad thing. And it is if we own something that is depreciating – or losing value.
But if you're shopping for a preowned vehicle, depreciation can work in your favor, and more is better.
That's where the latest iSeeCars.com study of best bargain used cars comes into the picture, identifying the vehicles that have depreciated the most over the last three years and represent the biggest potential savings for consumers.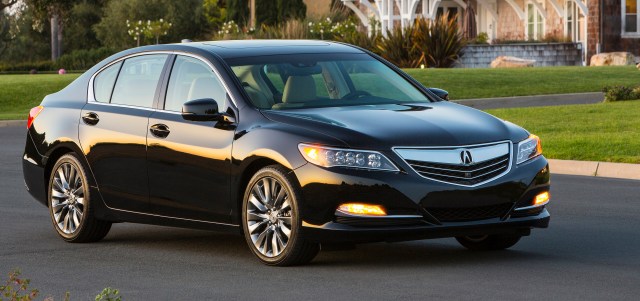 "The rising popularity of auto leases in recent years has led to an influx of cars coming off lease that are deeply discounted and provide bargains for used car shoppers," said Phong Ly of iSeeCars.com. "Some of these bargains present good opportunities for consumers as reliable vehicles."
The vehicle search engine "analyzed more than 4.8 million car sales to identify models with the greatest loss in value after three years, when most leased cars enter the used-car market."
RELATED
Luxury car brands offering models at prices many can afford
The research showed that the 20 best bargains among lightly used vehicles – excluding electric vehicles and luxury cars originally costing more than $80,000 – all depreciated more than 50 percent, significantly more than the average of 38.2 percent for all vehicles. Their prices new ranged from $41,074 for the Buick LaCrosse to $77,005 for the Lincoln Navigator L, with an average price of $55,705.
Following are the 20 best bargains – most of them considered luxury vehicles – their percent of depreciation and average three-year-old price:
20 best bargains
Acura RLX, 55.8 percent, $28,259
Lincoln MKZ, 55.6 percent, $19,855
Mercedes-Benz E-Class, 55.4 percent, $31,051
Jaguar XF, 54.8 percent, $30,268
Cadillac XTS, 54.5 percent, $26,306
Lincoln MKZ Hybrid, 54.5 percent, $20,034
Kia K900, 54.4 percent, $26,522
BMW 5 Series, 53.8 percent, $30,203
Cadillac CTS, 53.8 percent, $26,785
Audi A6, 53.3 percent, $29,941
Volvo V60, 53 percent, $22,159
Cadillac ATS, 52.7 percent, $24,715
Infiniti Q70, 52.5 percent, $27,662
Infiniti Q70L, 52.3 percent, $30,491
Volvo S60, 52 percent, $20,997
Lincoln Navigator L, 51.6 percent, $37,905
Buick LaCrosse, 51.2 percent, $41,074
BMW 3 Series, 50.6 percent, $23,611
Kia Cadenza, 50.2 percent, $19,508
Mercedes-Benz C-Class, 50.1 percent, $25,768
"Luxury brands are often leased, which creates a surplus of these three-year-old luxury vehicles in the used-car marketplace without an equal amount of demand," said Ly. "Given the heightened demand for SUVs, which account for a higher share of used-car inventory than ever before, luxury sedans are less sought after and have to come down significantly in price to attract used-car buyers."
A few mainstream lightly used cars – all below the $22,000 average transaction price for preowned vehicles – also rated among the best bargains:
9 best mainstream bargains
Buick LaCrosse, 51.2 percent, $41,074
Kia Cadenza, 50.2 percent, $19,508
Ford Fusion Hybrid, 49.7 percent, $14,844
Chevrolet Impala, 49.4 percent, $17,745
Kia Optima Hybrid, 49.2 percent, $16,381
Fiat 500L, 49.1 percent, $13,403
Ford Taurus, 48.7 percent, $17,587
Audi A3, 48.1 percent, $20,316
Chrysler 300, 47.8 percent, $20,184
Their prices new ranged from the Fiat 500L at $27,956 to the Kia Cadenza at $41,515, with an average new price of $32,085, lower if the Cadenza and LaCrosse are excluded.
All of that being said, it is possible to find some relative bargains on lightly used SUVs, although most of the top 10 are luxury vehicles.
10 best SUV bargains
Lincoln Navigator L, 51.6 percent, $37,905
Infiniti QX80, 49.1 percent, $38,869
Lincoln MKT, 49 percent, $28,441
Ford Expedition, 48.7 percent, $30,874
Lincoln Navigator, 48.1 percent, $38,426
Lincoln MKC, 48 percent, $23,006
Buick Enclave, 47.8 percent, $26,021
Volkswagen Tiguan, 47.7 percent, $16,235
BMW X5, 47.7 percent, $37,196
Infiniti QX60, 46.9 percent, $28,993
Six of the SUV bargains are from domestic carmakers, and there's a reason for that.
"These SUVs are ranked highly in their respective classes but aren't as popular as their more luxurious competitors," said Ly. "As a result, their demand might not be as high, which provides value for used car shoppers who are interested in a dependable luxury SUV."
Meanwhile, only one lightly used pickup truck depreciated more than the average for all vehicles. The Nissan Titan XD dipped 45.9 percent, to an average three-year-old price of $33,097.
"If you are purchasing a new vehicle and plan on turning it in after a few years, consumers might want to avoid the vehicles on this list," said Ly. "[But] if you want to save money, purchasing a car that has already lost most of its depreciation is a smart economic decision."