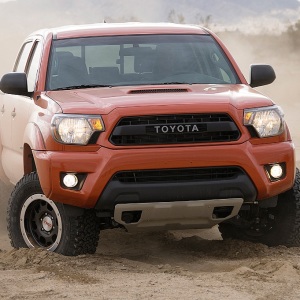 Trucks, SUVs and crossovers rule.
At least according to Kelley Blue Book calculations of 2015 model-year resale values.
Toyota scored three vehicles in the KBB Resale Value Awards top 10, while GMC and Chevrolet were represented by two each, and Jeep, Ford and Honda each captured one spot.
Following is the list of KBB's top 10 vehicles of 2015, with those making last year's list noted in boldface:
Toyota Tacoma – up from No. 6 last year
Jeep Wrangler – repeat at No. 2
Toyota Tundra – up from No. 8
Chevrolet Colorado
GMC Canyon
GMC Sierra
Chevrolet Silverado – down from No. 5
Toyota 4Runner – up from No. 10
Ford F-150
Honda CR-V – down from No. 9
This year's top 10 list is dramatically different from last year, when three cars – Chevrolet's Camaro and Corvette and the Dodge Challenger – actually made the list at Nos. 1, 3 and 7, respectively. Of course, the remaining seven vehicles then were all trucks, SUVs or crossovers.
"While most car buyers today consider sticker price one of the most significant numbers when choosing a new vehicle, the editors at KBB.com recommend shoppers consider a number they won't find on any window sticker: the resale value," said the automotive information company's press release.
Among other results of the KBB resale value study:
· Toyota and its luxury Lexus brand dominated the overall rankings taking the top spot in 10 of 22 categories, followed by Chevrolet, Subaru and Fiat-Chrysler with three each.
· Lexus won overall best resale value for luxury brands, while Subaru won for mainstream brands.
"Lexus notably captured the top luxury brand honors for the fourth year in a row, and after previously winning the brand award in 2011, Subaru is back on top again for 2015 as the best mainstream brand for resale value across its entire lineup," said Eric Ibara, director of residual value consulting for KBB.
"While both Subaru and Lexus deliver incredible resale value, we also are impressed with strides made by General Motors, which tops domestic automakers," Ibara said.
The Kelley Blue Book (KBB) Resale Value Awards recognize vehicles from the current model year for the value they are expected to retain through the initial five years of car ownership. Residual values – expressed as a percentage of a vehicle's original Manufacturer's Suggested Retail Price – are based on analysis of statistical models accounting for millions of transactions.