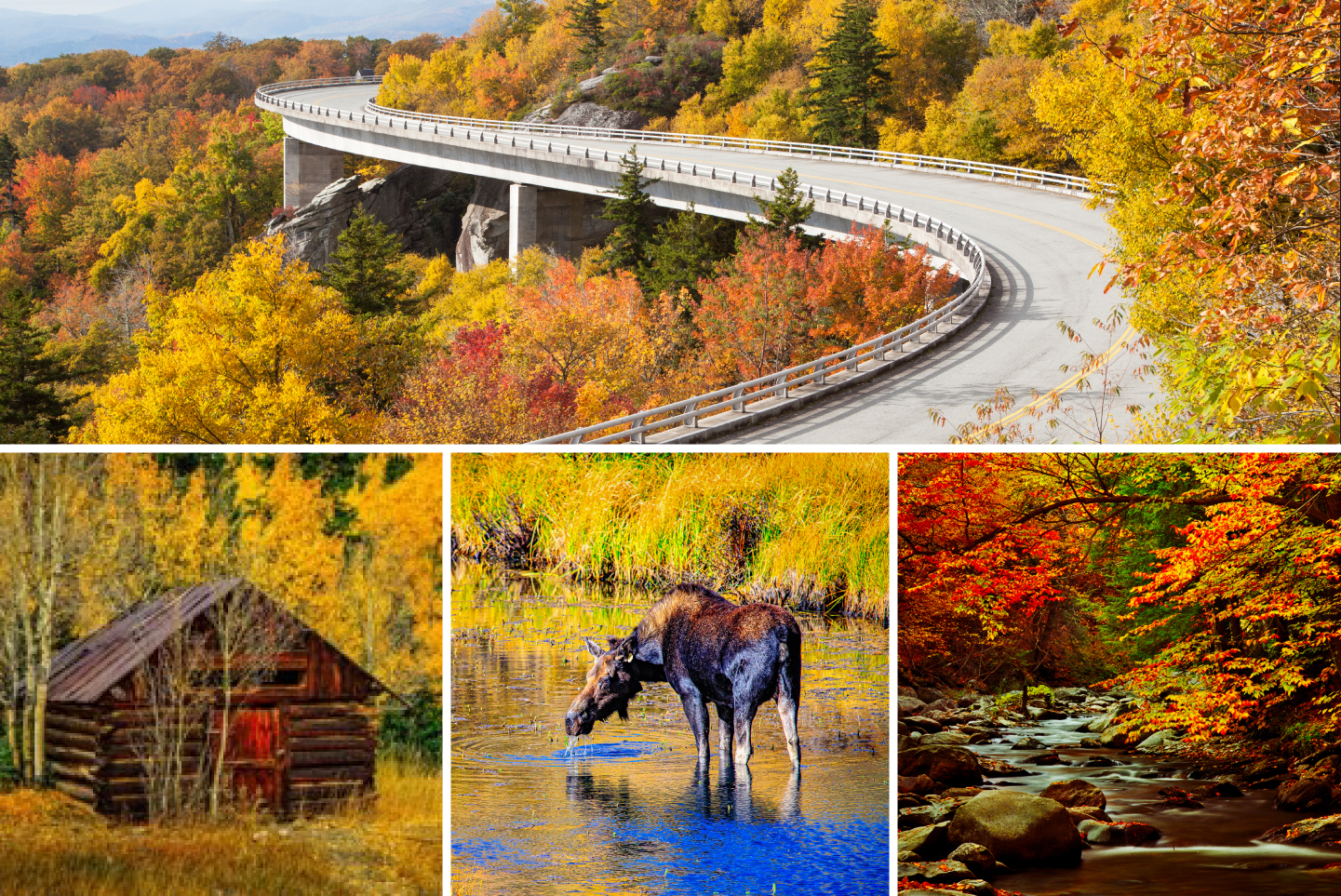 As the weather turns cooler and you're pondering plans for the fall, allow us to shine some light on possible excursions. Ones that involve the great outdoors and leaves changing from green to hues of red, orange and yellow.
A fall foliage road trip may be just the ticket to checking destinations off your bucket list in 2021. Late September through early November tends to be the ideal time to fill up your gas tank and see the country in a kaleidoscope of color.
Want to enjoy the scenic leaf-peeping season but don't know where to go? Here are some fall foliage drives your Instagram followers will be envious of – no filter necessary.
Blue Ridge Parkway – North Carolina and Virginia
Spanning 469 miles, the Blue Ridge Parkway connects the Shenandoah National Park to the Great Smoky Mountains National Park. With a speed limit of just 45 mph, the drive through North Carolina and Virginia provides literally days of fall foliage photo ops.
Sylamore Scenic Byway – Arkansas
The winding, 26.5-mile route runs along the edge of the Ozark National Forest. If you're inclined to get out of your vehicle, there are 1.2 million acres full of hiking trails and waterfalls.
Park Loop Road – Maine
Want to get your autumn-color fix with a mix of shoreline beauty? Park Loop Road offers 27 miles of scenery along the east side of Mount Desert Island in Arcadia National Park.
Payette River Scenic Byway – Idaho
Be sure to put your camera in panorama mode when you make this drive. The 112-mile road, also known as State Highway 55, can be driven in less than three hours. However, the mix of streams and mountains offer too many great opportunities to simply cruise through.
Mount Mansfield Auto Toll Road – Vermont
If you're looking for a more rustic way to view autumn's beauty without leaving your vehicle, the Mount Mansfield Auto Toll Road fits the bill. While only 4.5 miles long, this steep, unpaved road is accessible to cars only (that's right, no pickup trucks).
Lake Superior Scenic Byway – Wisconsin
Covering the southern shore of Lake Superior along the Bayfield Peninsula, the 70-mile trek is primarily on State Highway 13 and encompasses fall foliage in small towns, beaches and of course, water.
Kancamagus Scenic Byway – New Hampshire
The "Kanc" is a 34.5-mile stretch through the White Mountain National Forest that treats drivers to colorful views of the Rocky Gorge and Swift River. Be sure to pack snacks and have a full tank beforehand because the Kanc lacks "modern" amenities like restaurants and gas stations.
The Mohawk Trail – Massachusetts
What started as a Native American trade route is now one of the most beautiful and historic fall foliage drives in New England. Running along Routes 2 and 2A, the nearly 69-mile ride includes views of five rivers: Millers, Connecticut, Green, Deerfield and Hoosic.
Enchanted Circle Scenic Byway – New Mexico
End right where you start. This 84-mile drive can be done in less than three hours. If time isn't of the essence, be sure to take a selfie on Wheeler Peak – it's more than 13,000 feet high!
Mountain Cloves Scenic Byway – New York
New York really has it all – including the perfect place for a fall foliage road trip. Around three hours outside of New York City, the Mountain Cloves Scenic Byway is a roughly 40-mile tour offering breathtaking views of the Catskills.
Note: It's recommended travelers check the CDC and state-specific websites before taking to the road.