Satisfaction guaranteed?
Well, not exactly.
But the "unbeatable" Nissan Murano and Maxima may come close based on a recent survey of 50,000 new car and light truck owners by AutoPacific marketing research and consulting firm.
The two models led the way for Nissan, which won six of 25 Vehicle Satisfaction Award categories, followed by Fiat Chrysler Automobiles (FCA) and Hyundai-Kia, which earned four awards each.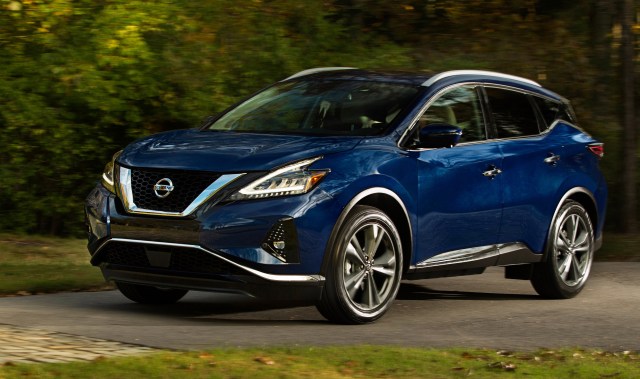 "It is heartening to lead the field in terms of the most category winners in vehicle satisfaction," said Billy Hayes of Nissan North America. "It means Nissan owners across a wide range of product styles and types really love their vehicles. We couldn't be more pleased."
Together, the three top automakers combined to win 14 of 25 satisfaction awards.
The awards measure owner satisfaction only across 32 separate attributes ranging from driving performance to seating comfort and interior design.
These winners 'unbeatable'
The Murano, which won for the fifth consecutive year, and Maxima, which won its fourth straight, "continue to be unbeatable since their redesigns entered the market in 2015 and 2016, respectively," according to an AutoPacific press release announcing the awards.
"Even with new competition this year in the all-new Subaru Ascent, Volkswagen Atlas and Lexus ES, the Murano and Maxima came out on top," said George Peterson, AutoPacific president. Besides the Murano and Maxima, Nissan winners were the Altima, Armada, Rogue and Infiniti Q60.
Other big award winners
The other big winners, FCA and Hyundai-Kia, each earned four awards, FCA for the Ram 1500 pickup, Jeep Grand Cherokee, Dodge Challenger and Chrysler Pacifica, and Hyundai-Kia for the Kia Cadenza, Kia Forte, Hyundai Accent and Hyundai Tucson. It was the third consecutive year the Grand Cherokee and Challenger racked up satisfaction awards, and the second straight year for the Accent.
The Ram, which also received honors for highest satisfaction among popular brands, earned top satisfaction scores in 22 of 32 attributes, including interior quietness, driver's seat movement, interior styling and power and acceleration, said AutoPacific.
An 'exceptional pickup'
"The Ram 1500 is a truly exceptional pickup," said AutoPacific's Peterson. "But what carries Ram to the top as a brand is high satisfaction in areas that can be problems for other brands."
He cited second-row comfort, interior storage, passenger room and user-friendly gauges and controls.
Lincoln was named the highest satisfaction premium brand, after ranking fifth last year, and the Lincoln Navigator the most satisfying vehicle overall.
Winners by category and segment were:
Sport utility vehicles
Hyundai Tucson, compact crossover SUV
Nissan Rogue, mid-size crossover SUV
Jeep Grand Cherokee, mid-size SUV
Chevrolet Traverse, large crossover SUV
Nissan Armada, large SUV
Nissan Murano, premium mid-size crossover SUV
Mercedes-Benz GLE, premium luxury crossover SUV
Lincoln Nautilus, luxury crossover SUV
Lincoln Navigator, luxury SUV
Trucks and minivans
Ram 1500, light duty pickup
Ford Ranger, mid-size pickup
Tesla Model X EV, luxury EV truck
Chrysler Pacifica, minivan
Passenger cars
Lincoln Continental, luxury car
Nissan Maxima, luxury mid-size car
Infiniti Q60, aspirational car
Hyundai Accent, economy car
Kia Forte, compact car
Acura ILX, premium compact car
Nissan Altima, mid-size car
Kia Cadenza, large car
Chevrolet Corvette, sports car
Dodge Challenger, sporty car
Tesla Model 3 EV, luxury EV car
Honda Clarity EV, mainstream EV car
"For 23 years, AutoPacific has been providing true unbiased insight into which vehicles are giving their owners the most satisfying experience," said Peterson.
Perhaps your next vehicle is on the list.