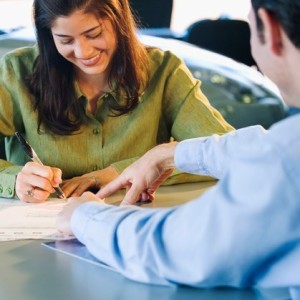 If American drivers could have their way, buying or leasing a new vehicle would happen almost as often as they change the oil in it.
Well, OK, that's an exaggeration, but not by much.
They would swap vehicles only as often as they exchange mobile phones, which is approximately every 22 months on average, according to Recon Analytics research firm.
That similarity with mobile technology is among the findings of a survey of 1,000 drivers by Swapalease.com. But it is thought to be one of the reasons leasing penetration of the new-car market has surged to more than 25 percent in 2014 based on the latest industry data.
"Consumers wish to view vehicles as easily interchangeable technology, like mobile technology," Swapalease said in its summary of the survey results.
That technology also includes engine electronics, safety features and navigation systems.
The survey showed that more than 90 percent of drivers would like to change vehicles every three years or less, the average length of a lease and plenty of time for technology changes.
But 66.5 percent of men and 62.5 percent of women would change every 24 months or less, a trend to which the auto industry apparently is responding by offering 24-month leases. And between 25 and 30 percent of those drivers surveyed would change vehicles every 12 months if they could.
In fact, "drivers are listing their vehicles with an average time of 22 months remaining on the average 36-month lease contract," according to a Swapalease, an online lease marketplace. "This means the average person looks to escape their car lease 14 months into the contract."
"The length of personal use of a car lease continues to mirror that of a mobile phone … [as] both men and women prefer to change their vehicle as often as they change their cell phone," Swapalease said.
"Today's average driver views his or her car as simply a feature-rich piece of hardware that aims to serve as transportation. As such, drivers are not interested in the details behind servicing their vehicle and would like to avoid driving an older-model vehicle that's prone to service above and beyond normal checkups needed within the first 36 months of a vehicle's lifecycle."
Younger drivers, in particular, are interested in swapping cars with greater regularity to keep up with new technologies and avoid those repair and maintenance issues.
And that apparently means more leasing.