And the long-distance winner is …
The Hyundai Ioniq Electric, best fuel-mileage car with 136 MPGe (150 city, 122 highway).
The midsize Hyundai leads all vehicles in the U.S. Environmental Protection Agency's ratings of 2019 models' fuel efficiency, which includes converting fuel mileage to MPGe to allow vehicle comparisons.
The Ioniq's sibling Hyundai Kona Electric small SUV rated as the most-efficient vehicle in five EPA classes for SUVs, trucks and minivans at 120 MPGe (132 city, 108 highway) in addition to ranking high overall. The Tesla Model X 75D electric vehicle, which is categorized as a standard sport utility, is the second-most fuel efficient among those classes at 85-93 MPGe depending on model.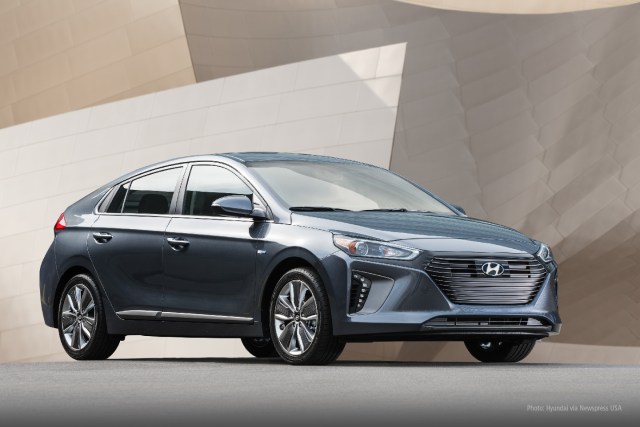 Following the Ioniq by MPGe and class are:
Toyota Prius Prime (hybrid sedan), 133 combined MPGe
Tesla Model 3 Long Range (luxury sedan), 130 MPGe
Tesla Model 3 Mid-Range (luxury sedan), 123 MPGe
Hyundai Kona Electric (SUV), 120 MPGe
Chevrolet Bolt EV (small station wagon) and Volkswagen e-Golf (compact) 119 MPGe.
Excluding electric vehicles, the most-efficient cars by MPG and class are all hybrids:
Hyundai Ioniq Blue (large), 58 MPG
Toyota Prius Eco (midsize), 56 MPG
Kia Niro FE (small station wagon), 50 MPG
Toyota Prius c (compact), 46 MPG
Rounding out the winners in the EPA's car classes are:
Chevrolet Spark (subcompact), 33 MPG
MINI Cooper Convertible (mini-compact), 31 MPG
Fiat 124 Spider and Mazda MX-5 (two-seater), 30 MPG
Volvo V90 FWD (midsize station wagon), 27 MPG
Other top SUVs besides the Kona and Model X are:
Subaru Crosstrek Hybrid AWD (small SUV), 90 MPGe
Chrysler Pacifica Hybrid (minivan), 82 MPGe
Jaguar I-PACE 4WD (small SUV), 76 MPGe
Mitsubishi Outlander PHEV 4WD (small SUV), 74 MPGe
BYD e6 (small SUV), 72 MPGe
Volvo XC60 AWD PHEV (small SUV) and XC90 AWD PHEV (standard SUV), 58 MPGe
Mercedes-Benz GLC350e 4matic (small SUV), 56 MPGe
Besides the top SUV, trucks and minivans, all of which are either electric or hybrid vehicles, the following scored the best mileage in those three classes:
Chrysler Pacifica Plug-in Hybrid (minivan), 48 MPG
Nissan Rogue Hybrid FWD (small SUV), 34 MPG
Lexus RX 450h AWD (standard SUV), 30 MPG
Ford F150 Pickup 2WD (standard pickup), 25 MPG
Chevrolet Colorado 2WD and GMC Canyon 2WD (small pickups), 23 MPG
Chrysler Pacifica, Honda Odyssey and Toyota Sienna 2WD (minivan), 22 MPG
Altogether, the EPA ratings comprise almost 1,700 new vehicles, including 389 SUVs, 135 pickups and 10 minivans, and are available online at fueleconomy.gov.
Fuel economy is measured by manufacturers – usually using pre-production prototypes – under controlled laboratory conditions using tests specified by federal law. The EPA reviews the results and confirms about 15 to 20 percent of them through further testing.
The EPA fuel economies may not accurately predict your average MPG, depending on how and where you drive, vehicle condition and maintenance, and other fuel, vehicle and engine variations.