Automotive News once called CarMax Inc. the 400-pound gorilla of the used-car market.
Not much has changed in the year or so since then, despite the launch of used-car-only stores by Sonic and Asbury automotive groups, which, for the time being do not challenge CarMax nationally.
And that makes it relatively simple for the used-car buyer to narrow his/her shopping choices.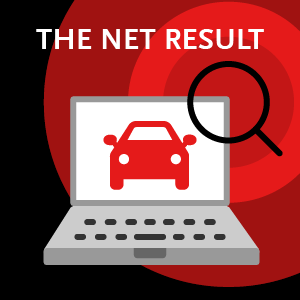 CarMax sells more than a half-million vehicles a year in its 150-plus locations, holding a sizeable lead over its top competitors AutoNation (more than 200,000), and Penske Automotive Group and Sonic (more than 100,000 each), all three of which sell mainly through new-and-used-car dealerships.
But how do those national results translate to a local search – your search – for a used car?
Taking the number of used vehicles returned in an online search as a measure of a website's helpfulness, we set out on Oct. 13 to find 2012 Toyota Highlanders and Corollas at CarMax locations within a 50-mile radius of a suburban ZIP code near a major U.S. city. Of course, we had comparisons available from a similar search Sept. 1 on major third-party sites and later from dealership websites.
The results are comparable to dealership websites, a top destination for used-car shoppers.
Among the top four used-car groups, CarMax was the most helpful, returning two Corollas and three Highlanders at two different CarMax locations, with free transfer to a third location. AutoNation provided us just one location, but we had to go to that dealer's website to find what vehicles were available – zero Corollas and three Highlanders – while Sonic surfaced two Corollas from one dealership, and Penske returned no 2012 Corollas or Highlanders within our 50-mile test radius.
Of course, results are affected by location, because some groups are not as widespread geographically. Sonic, for example, is concentrated in the Southeast, Texas, Colorado and California, and Lithia Motors (see below) operates mainly in Texas, California and the Northwest.
Other large groups are Group 1 Automotive with about 150 dealerships, Lithia with about 130, Hendrick Automotive Group with nearly 100 and Berkshire Hathaway Automotive with more than 80 locations.
All provide search functions on their group websites, but their value largely depends on your location.
The next installment in our series will cover online classified sites such as Craigslist.
RELATED:
Where to look for used vehicles online before visiting a dealer (Part 1)
Are you shopping for your next used vehicle at the right website? (Part 2)
Where NOT to bother looking for private-seller used vehicles (Part 3)
Nothing special about used-vehicle website 'aggregators' (Part 4)
Most vehicle shoppers use dealership websites – should you? (Part 5)