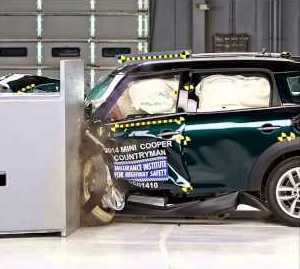 IIHS.
It's a four-letter word – OK, an acronym, actually – that would scare the living daylights out of you if you were a four-wheeled vehicle.
Because IIHS, the Insurance Institute for Highway Safety, crashes vehicles as its principal function. The idea is to develop vehicle safety ratings that will be useful to shoppers and, dare we say, automakers.
The most recent vehicle safety ratings involved small cars and IIHS's "challenging small overlap front crash test" of 12 vehicles, all 2014 models, from the Mini Cooper Countryman, the only small car to earn a "good" rating, to five with "acceptable" ratings, two rated "marginal" and four others which received "poor" ratings.
Introduced in 2012, the small overlap test replicates what happens when the front corner of a vehicle collides with another vehicle or an object such as a tree or utility pole at 40 mph.
"The Mini Cooper gave a solid performance," said Joe Nolan, the institute's senior vice president for vehicle research, in a report on the vehicle safety results. "The Countryman's safety cage held up reasonably well. The safety belts and airbags worked together to control the test dummy's movement, and injury measures indicate a low risk of any significant injuries in a real-world crash this severe."
Still, the Countryman, ultimately a Top Safety Pick, did not qualify for IIHS's Top Safety Pick+ designation, the institute's highest. That went to the Chevrolet Volt, Honda Civic four-door sedan, Mazda Mazda3, Toyota Prius, all 2014 models, as well as the 2015 Volkswagen Golf and GTI.
"Consumers in the market for a small car now have six models to consider on our list of 2014 Top Safety Pick+ award winners, and an additional 13 that earn Top Safety Pick," Nolan said. "Consumers trading the inherent safety of a larger vehicle for the convenience or fuel economy of a small car should focus their search on these vehicles with state-of-the-art safety designs."
Still, small cars are just one of nine categories tested overall, with vehicle safety results reported on the IIHS website. The other categories are minicars, midsize moderately priced cars, midsize luxury or near-luxury cars, large luxury cars, small SUVs, midsize SUVs, midsize luxury SUVs and minivans.
Thirty-four vehicles in all categories earned IIHS TSP+ awards, while another 22 were rated TSP winners. A complete list of safety picks is available on the institute's website.