Whether you're lustful or obsessive, a purist or a techie, or something else entirely, there apparently is an auto blog for you.
Let's start with the obsessive – Autoblog, the big dog.
With two to three dozen blog posts in 24 hours over the several days when we checked the site, Autoblog is a prolific producer of automotive and auto-related content among dedicated auto blogs, living up to the claim on its website that "we obsessively cover the auto industry."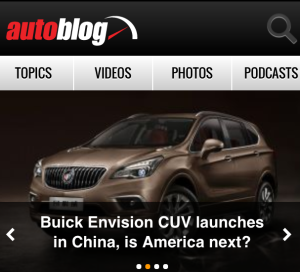 But obsession apparently isn't limited to the blog itself, which is the runaway leader for unique monthly visits among top auto blogs – nearly four times the second-most popular, according to blogmetrics' recent ranking of the top 50 blogs. Autoblog draws about 1.5 million visitors per month, compared to No. 2 Jalopnik at 400,849 and No. 3 The Truth About Cars at 141,643 visitors.
So, if you're trying to make sense out of the auto blog universe, or are just obsessive about automobiles and auto industry news, those three blogs are good places to start.
Obviously, Autoblog has gained a reputation as a must-read for enthusiasts and industry watchers.
By comparison, blogs four through 10 on the blogmetrics' ranking for unique monthly visitors ranges from 20,714 down to 4,104. Those blogs are, in order of ranking, eGMCarTech, Car Lust, mpgomatic.com, Car Throttle, Automotor Blog, Motorward and BMWCoop.
The listing of blogs by monthly visits ends with No. 24 Mack Trucks at 130 and No. 23 Ridestory at 196.
The "ultimate rank" by blogmetrics, which takes into account more than 20 factors, including RSS membership, incoming links and other blog rankings, looks a little different than the visitors ranking.
However Autoblog still leads the pack, and Jalopnik, The Truth About Cars and eGMCarTech still make the top five. But they are joined there by Automoblog.net, which finished just outside the top 10 on monthly visitors ranking but climbs to No. 4 on the ultimate rank measure. Others in the top 10 are Hemmings Auto Blogs, Motorlogy.com, BMWCoop, PorschePurist.com and Tundra Headquarters.
And visit the Santander Consumer USA blog regularly for more news on auto-, auto-finance and SCUSA-related topics.