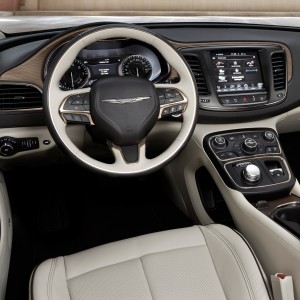 Sure, it's great to have a nice shiny car – new or used.
Some may imagine making heads turn admiringly as they drive down an expressway or on a city street. We all know that the outward appearance of our cars are a public expression of ourselves.
But how many people travel on the outside of their vehicles? That's right, the outside. The part on which most of us focus while shopping for our next car, truck or SUV.
The obvious answer is that nobody does. We sit on the inside, enclosed and, we hope, safe and secure.
That's what makes WardsAuto's list of the 10 best auto interiors so interesting. It honors "a broad swath of cars and utility vehicles available in the U.S. with advanced human-machine interfaces, high-quality materials, outstanding comfort and, in some cases, breathtaking aesthetics …"
Eight WardsAuto editors spent two months evaluating 41 vehicles during their routine commutes in and around metro Detroit and submitted scores ranking the entries on features such as ergonomics, driver information, fit-and-finish, materials, value, safety, comfort and design harmony. To qualify for the list, a vehicle must offer a "new or significantly redesigned" interior.
The list of 10 ranges from the Kia Soul+ with a sticker of $24,010, lowest among the 10 vehicles, to the Rolls-Royce Wraith at $372,800, the most expensive vehicle. Eight of this year's winners are 2014 models, but two – the Chrysler 200C and Volkswagen GTI – are 2015 models. And four of the 10 vehicles are from American automakers – Chevrolet, Chrysler, GMC and Jeep.
The winners in alphabetical order with sticker prices as tested are:
Chevrolet Corvette Stingray, $71,960
Chrysler 200C, $31,470
GMC Sierra Denali, $56,685
Hyundai Equus Ultimate, $68,920
Jeep Cherokee Limited, $37,525
Kia Soul+
Mazda3, $30,415
Mercedes-Benz S550, $122,895
Rolls-Royce Wraith
Volkswagen GTI, estimated at $30,695
"This year's list is the most diverse we've ever had, from affordable compacts to ultra-luxury cars," says Drew Winter, WardsAuto World editor-in-chief. "In each case, the interior plays a pivotal role in establishing the vehicle's brand character and making it intensely desirable to buyers."
Winners will be honored May 21 during the WardsAuto Interiors Conference in Dearborn, MI. For more on the winners, visit the WardsAuto website.