You're about to buy a year-old Honda HR-V, because, well, a new one would lose a significant amount of value as soon as you drive it off the lot.
Everybody knows that.
But wait!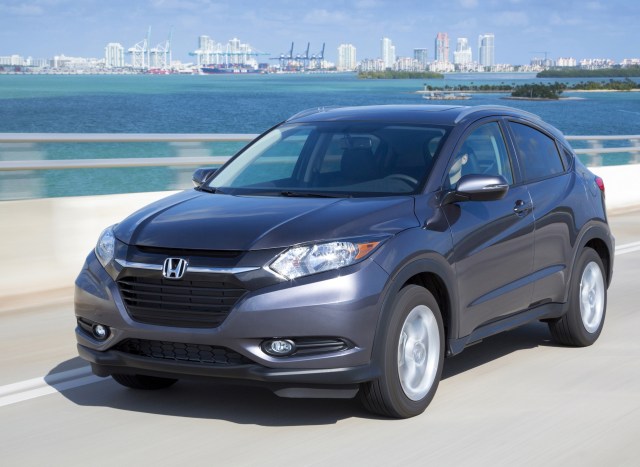 In fact, the Honda HR-V is one of the top dozen vehicles to buy new instead of used, according to iSeeCars.com automotive data and research website, which analyzed more than six million new and used cars sold from Aug. 1, 2017, to Jan. 24, 2018.
RELATED
The top 10 vehicles you don't need to wait to buy used – iSeeCars.com
(Oct. 12, 2016)
For $2,885 more – about 13.8 percent – you can purchase a new HR-V. It's the lowest price difference between new and slightly used vehicles in iSeeCars.com's analysis.
Not far behind is the Jeep Renegade, which sells, on average, for just $2,897, or 14.1 percent, more than a year-old used version, says iSeeCars.
Toyota scored four Top-12 vehicles with the Tacoma, 4Runner, Highlander and Tundra, while Jeep, Subaru and Honda made the list with two models each. The Nissan Frontier and Chevrolet Colorado completed the list of the top cars to buy new instead of used.
'Latest and greatest features'
"It's widely understood that new cars tend to lose a large portion of their value shortly after they're driven off the lot, but these cars retain more value over the first year," said Phong Ly of iSeeCars.com.
"Instead of buying a car that's been driven for one year," said Ly, "Consumers can buy the new version for just a few thousand dollars more and take advantage of the latest and greatest technological and safety features. Spread out over the length of a car loan at an average of 5.5 years, the slightly increased monthly payments can be offset by the added warranty and dealer incentives."
Most vehicles on the list are pickups and SUV/CUVs, with only the Subaru WRX preventing a shutout.
Making the iSeeCars.com list
For shoppers "torn between purchasing a new versus lightly used vehicle," here is the Top 12, with vehicle model, percentage and price differences between new and used models:
Jeep Wrangler Unlimited, 8.9 percent, $3,199
Toyota Tacoma, 10.4 percent, $3,320
Toyota 4Runner, 12.7 percent, $4,605
Nissan Frontier, 13.3 percent, $3,180
Honda Pilot, 13.7 percent, $4,858
Chevrolet Colorado, 13.7 percent, $4,154
Honda HR-V, 13.8 percent, $2,885
Jeep Renegade, 14.1 percent, $2,897
Subaru WRX, 14.2 percent, $4,115
Subaru Crosstrek, 15.45 percent, $3,586
Toyota Highlander, 15.5 percent, $5,490
Toyota Tundra, 16.2 percent, $6,086
The overall average difference between new vehicles and year-old models is 26.8 percent.
New cars included in the iSeeCars.com analysis were from model years 2017 and 2018, while lightly or year-old used vehicles were 2016-2017 model years with mileage close to the average annual miles traveled in the United States, according to the Department of Transportation.
NEXT: These are the Top 12 cars to buy used instead of new – iSeeCars.com