Many smartphone users find TrueCar shopping website simply phabulous.
TrueCar, which offers to make every vehicle shopper "an expert in 60 seconds or less," scored highest of 10 third-party websites among users of large-screen smartphones – phablets – in a study by J.D. Power.
Why such a pointed interest by J.D. Power in the use of phablets for car shopping?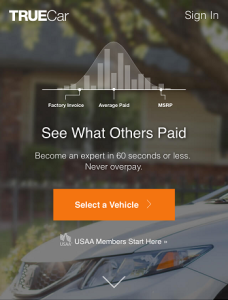 "The time spent on mobile devices for automotive shopping is increasing," said Power's Arianne Walker, "and this trend of buying and using phablets is expected to continue."
Besides TrueCar, which scored 776 of 1,000 points and rated "among the best," top third-party websites and their scores are CarGurus (744), Yahoo! Autos (744), U.S. News Best Cars (742) and Edmunds.com (741), all of which finished above the J.D. Power mobile website average of 734 points.
The J.D. Power study also rated manufacturer websites for usefulness to shoppers using phablets.
Based on the study, the top 10 manufacturer brand websites are Acura, Infiniti, FIAT, Nissan, Ram, Cadillac, Dodge, Ford, Jeep and GMC, all of which finished with at least 794 points on a 1,000-point scale. Others finishing above the manufacturer mobile site average of 783 points were Porsche, MINI, Hyundai, Jaguar, Chevrolet, Mercedes-Benz, BMW and Chrysler.
Among other J.D. Power findings:
Shoppers satisfied with their mobile experience are more likely to visit a dealership for a test drive.
Vehicle shoppers who use phablets are significantly more satisfied with their website experiences than those who use smaller smartphones. For example, satisfaction was 805 points out of 1,000 among shoppers using 13 or more tools vs. 745 among those using 12 or fewer tools.
More shoppers access a wider range of website content overall when using a phablet versus a smaller smartphone, especially such interactive content as video.
The study – which compiled results of 12,416 evaluations of automotive mobile websites by shoppers who intend to purchase or lease a vehicle within the next two years – looked at information/content, navigation, appearance, speed and tools to determine the most useful mobile sites for phablet users.
Designers of automaker and third-party websites "should be mindful of growing phablet usage and take advantage of the larger screen by displaying more content and adding detail to maximize shopper satisfaction," said Walker, Power's senior director of automotive media and marketing.
Popular phablets – smartphones with screens 5.5 inches and greater – include the iPhone 6 Plus, Samsung Galaxy Note 4, Google Nexus 6 and Microsoft Lumia 640 XL.
Details of the Automotive Mobile Site Study results are available online at jdpower.com.