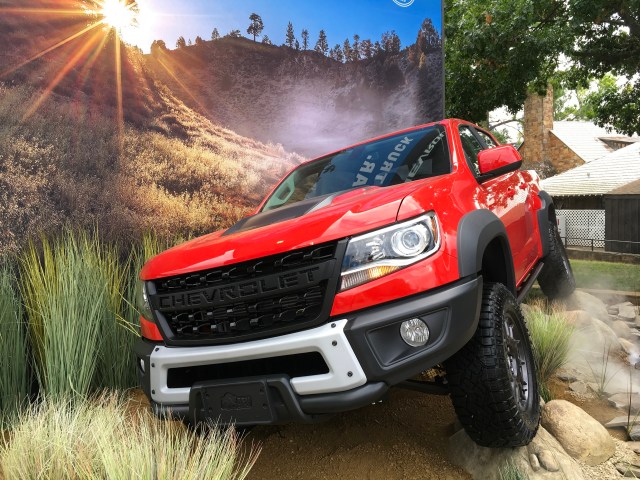 Trucks aren't meant to be corralled.
But apparently the Ford trucks, at least, are meant to sit atop – and climb the side – of an oil derrick-looking thing at the Texas State Fair Auto Show in Dallas.
Those high-flying Fords represent one of eight brands in the fair's Truck Zone, along with Chevrolet, GMC, Kia, Nissan, Ram, Subaru and Toyota, because, of course, "Trucks aren't meant to be corralled indoors, they're meant for wide, open space under a beautiful Texas sky."
Chevrolet, Nissan, Ram and Toyota also are represented by sky-scraping structures topped by trucks – shipping containers stacked like blocks in the case of the Nissan Titan.
RELATED
"What auto shows near me can make new-car shopping easier?"
That's not to say the cars and SUVs in the fair's Automobile and Centennial buildings aren't interesting – a lot of fair-goers find them plenty interesting. And why not, with a total of around 400 vehicles representing about 20 brands populating perhaps the longest-running auto show of the year at 24 days.
It's just that trucks … and Texas … well, you know, trucks and Texas.
"If Texas had an official vehicle, it would be a pickup truck," wrote Andrew Wendler at Forbes.com, to which "fair organizers dedicate a sizeable chunk of their valuable fairground real estate … the 'Truck Zone' area is devoted solely to these valued workhorses."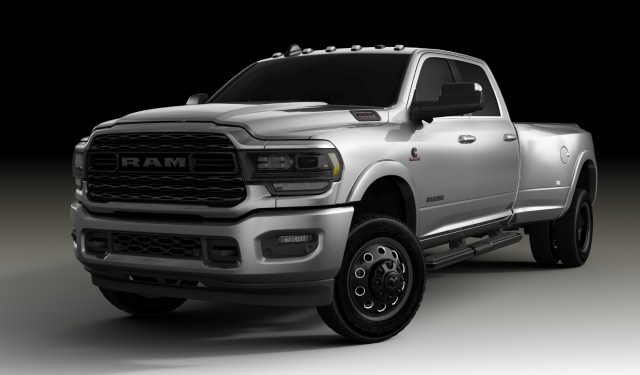 The sprawling Zone encompasses 175,000 square feet of space outside the Automobile Building, near the fair's main gate, "where they could show off their Lone Star spirit."
Among the highlights of the fair's recent media day was the unveiling of Ram 1500 Limited Black Edition, with a manufacturer's suggested retail price (MSRP) starting at $53,690, and Heavy Duty Night Editions available in Big Horn and Laramie models starting at $37,995.
But Toyota, GMC, Nissan, Chevrolet and Ford also took turns to present updated models, powertrains and trim packages, such as Chevrolet's Silverado 1500 Midnight and Rally editions.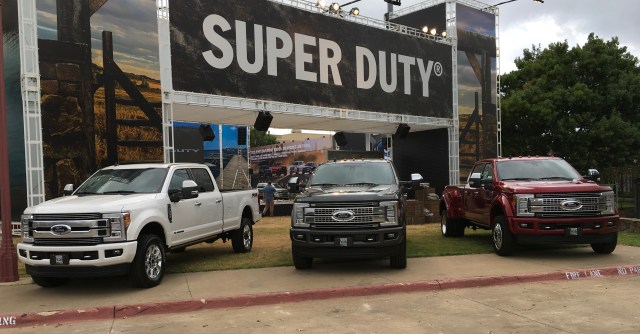 Ruggedness, of course, is a thing in the Truck Zone, with the Bison, Ford F-150 Raptor, and Nissan Titan all presented on pseudo-rocky terrain – implying they are capable of taking a beating on and off road. Ford's lineup of powerful F-450 Super Duty models is more straightforward than some other brands but still reflects the marque's longstanding dominance in the pickup market.
And then, there is Ford's oil derrick-looking thing to consider, because, well, it's Texas.
"The state fair has become a hot spot for pickup truck makers to show off their latest vehicles … [as] Texas is, after all, one of the country's largest markets for pickups," reported CNET.com's Road Show.
Indeed, the outdoor Truck Zone gives Texas fair-goers plenty of heat, literally and figuratively.