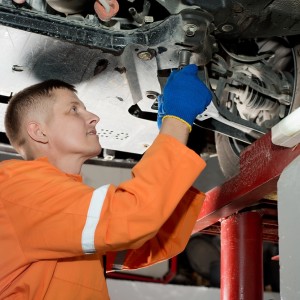 The cost of driving a car, SUV or minivan can be high, with gas, maintenance, insurance and other expenses.
That's not a big surprise. But it's something we often don't think about in detail. And knowing the annual cost of driving can save you a lot of money to spend on other things – or save.
"Ever wonder where your money disappears every month? Take a look in your garage," writes Andrea Coombes in an article titled "Mercedes or Ford, it costs a lot more than you think: Your car could be driving your budget into the ground" in The Wall Street Journal. 
So, how much does your vehicle drain from your annual budget?  On average, more than $9,000 if you drive a sedan, according to AAA report, "Your Driving Costs – How much are you really paying to drive?" Even more on average if you drive an SUV or minivan, AAA reported.
The AAA study calculated the annual cost of driving associated with operating small, medium and large sedans, and then separately calculated the costs of operating an SUV or minivan. Driving costs in each category are based on average costs for five top-selling 2012 models selected by AAA.
The report covers all operating costs, including gas, maintenance, tires, etc., and ownership costs, including depreciation, insurance, taxes, license and registration, and finance charges.
By size category, the car models tested are:
Small sedan – Chevrolet Cruze, Ford Focus, Honda Civic, Hyundai Elantra and Toyota Corolla.
Medium sedan – Chevrolet Impala, Ford Fusion, Honda Accord, Nissan Altima and Toyota Camry.
Large sedan – Buick LaCrosse, Chrysler 300, Ford Taurus, Nissan Maxima and Toyota Avalon.
Total cost per year to operate a small sedan for 15,000 miles averaged $6,967 or 46.4 cents a mile, AAA reported, while a medium sedan averaged $9,151, or 61 cents a mile, and a large sedan, the second-most expensive category tested by the auto association, averaged $11,248, or 75 cents a mile. The overall average cost of driving a sedan was $9,122, or about 60.8 cents a mile.
AAA also calculated average cost and cost per mile for 10,000 miles annually and 20,000 miles.
In the SUV and minivan categories, AAA tested the following:
SUVs – Chevrolet Traverse, Ford Explorer, Jeep Grand Cherokee, Nissan Pathfinder and Toyota 4Runner.
Minivans – Dodge Grand Caravan, Kia Sedona, Honda Odyssey, Nissan Quest and Toyota Sienna.
In fact, the minivan category outperformed large sedans, with a total cost per year of $9,795, or 65.3 cents a mile on average, AAA reported, while the SUVs were the most expensive category, with an average annual cost among the five models tested of $11,599, or 77.3 cents a mile.
The difference between the least and most expensive vehicles to operate? About $4,600 in one year.
More details of costs covered by the study are available online.