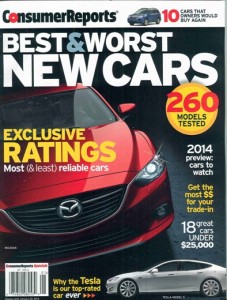 It's easy to lose your way when looking for a new car, truck or SUV.
It's no wonder with some 263 different models available in the United States in 2013.
The calculations we did in Part 1 of our series, which resulted in a shopping range from $14,600 to $21,500, narrows the field to about 40 vehicle models, but that's still a lot. So there's more to be done before you come close to settling on the right vehicle or visiting a dealership.
For Step 2 in the process, I usually begin with Consumer Reports magazines' new car issue, which tested and rated 260 models manufactured. CR's rating system that includes predicted reliability, owner cost, owner satisfaction and fuel economy provides a good way to compare the vehicles that fit within our price range.
The two criteria I look at first for a new car are predicted reliability and owner satisfaction, because, let's face it, if a vehicle isn't reliable or current owners don't like it, why should we consider it? But there are other criteria you may choose to consider, such as owner cost.
(CR rates vehicles on a scale that ranges from better than average to worse than average.)
To begin with, I looked at vehicles with no worse than an average rating, and preferably with a better-than-average rating on each of my favorite criteria. That cuts our original list of 40 to just 14.
Among the remaining choices are seven subcompact cars, such as the Honda Fit, Chevrolet Sonic, Honda CR-Z and Insight and the Toyota Prius C, and seven compact cars, including the Volkswagen Golf and Jetta, Subaru Impreza, Hyundai Elantra, Honda Civic and Scion xB.
Most of those on our list are rated much better than average for owner cost, so that doesn't help us, but choosing a compact over a subcompact or vice versa would cut our list in half.
The top-rated compacts: The highest-scoring, road-tested vehicles on our list – which also were the highest rated of the 14 vehicles on our longer list – are the VW Golf (85), Subaru Impreza (82) and Hyundai Elantra (80), while the Impreza and the Scion xB score best on other criteria.
The top-rated subcompacts: The highest-scoring, road-tested subcompact was the Honda Fit Sport (76) and base (68), while the Fit models and Prius C scored best on the other criteria we considered.
Now you have a list of vehicles to consider both on general price and quality terms.
Step 3 in the process – the reality check – will appear next week on the Santander Consumer USA blog.
Visit the Santander blog regularly for more news on auto-, auto-finance and SCUSA-related topics.