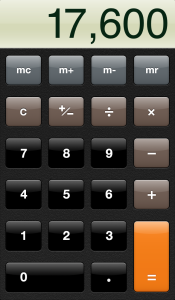 You're going to buy a new car or used car.
Sounds simple enough, right? Of course, it does. But if you think about it for a moment, you realize it might not be as simple as you would like to get the right vehicle at a good price.
And it can get downright complicated if you don't know which resources to use as part of your shopping.
I know. I'm there right now. So, at least I can tell you how I have gone about the process. Although incomplete, it has given me confidence that the vehicle my family chooses will be the right one.
Step 1 is determining how much you can afford to spend on a new car.
For this step, I used an Edmunds.com calculator, "How much car can I afford?" and a tool called AffordCheck from Requisite Press – recommended by autoremarketing.com. I like the latter because it provides a maximum based on the 20/4/10 rule – 20 percent down payment, four-year term and no more than 10 percent of your gross salary – and the Edmunds tool because it accounts for a trade-in.
Using a typical median household income of $53,385, sales tax of eight percent, four-percent interest rate, no monthly cost for additional cars and $1,500 a year for insurance, AffordCheck recommends a vehicle costing no more than $16,105 ($17,393 with tax), and a down payment of $3,221. The result would be a $320 per month car payment and a total cost (with interest) of $18,581.
Edmunds allows me to enter a target monthly payment, say $320, for 48 months, with an interest rate of four percent. That provides a sticker price range of $14,600 to $17,600 and an Edmunds True Market Value (TMV) of $16,100, which is in the same ballpark as the AffordCheck recommendation.
Of course, many people don't follow the 20/4/10 rule, and these tools don't prevent that.
To expand your choices, you could consider stretching the term to five years, which would allow you to think about  vehicles with a sticker price of $19,745 ($21,325 with tax), but requiring a down payment of $3,949, with an Edmunds price range of $18,500 to $21,500 and TMV of $20,000.
AffordCheck gives an "Afford Score" of 100 points on a 100-point scale for the four-year calculation, while the calculation of a five-year term comes out to 80 points. For the sake of discussion, we'll go with a term of four or five years as we move through steps 2-5 to make sure we have enough new car options.
That means we'll be looking at vehicles with sticker prices ranging from $14,600 to $21,500.
Step 2 in the process? How to narrow your choices from among the hundreds of different vehicle models available. That will appear next week on the Santander Consumer USA blog.
Visit the Santander blog regularly for more news on auto-, auto-finance and SCUSA-related topics.