There was a lot of customer satisfaction guaranteed to go around this year in the AutoPacific Vehicle Satisfaction Awards.
Award winners were spread among 12 manufacturers, 17 brands, 24 categories and 27 vehicles – including ties – a lot of options for shoppers looking for their next vehicle.
Especially among Hyundai Motor Group vehicles, including Hyundai, Kia and Genesis brands, and Fiat Chrysler Automobiles (FCA), which include Chrysler, Dodge, Ram and Alfa Romeo brands. The Hyundai group comprises nine category winners for three brands and FCA five winners for four brands.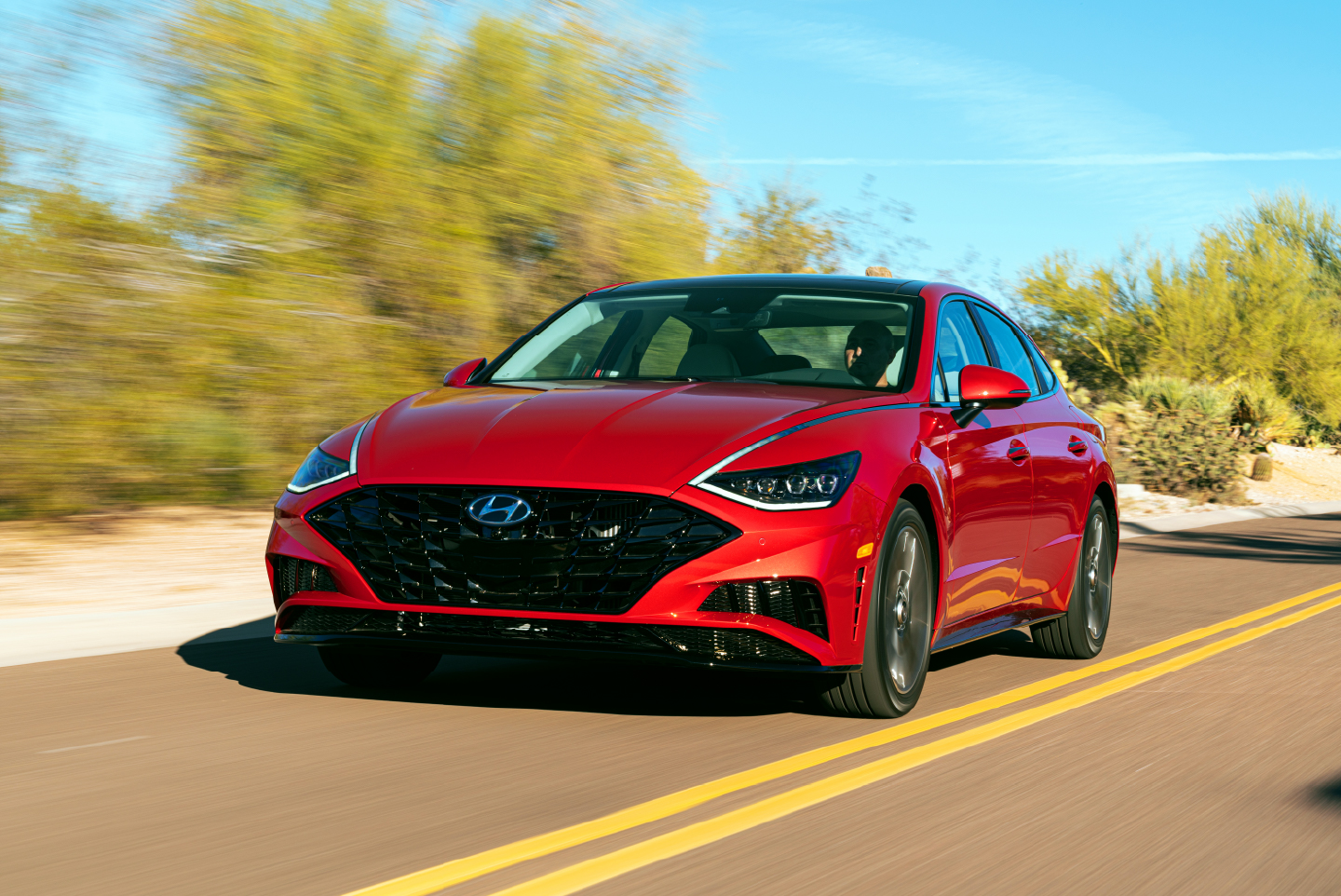 Photo credit: Hyundai via Newspress USA
The Sonata helped Hyundai Motor Group to a top awards finish overall.
Nissan Motor Company earned three awards, Mercedes-Benz and Ford received two each, and seven manufacturers earned a single AutoPacific award.
Overall winners and awards are:
BMW X6, most satisfying vehicle overall and top-scoring truck
Genesis G90, most satisfying passenger car
Lincoln, highest satisfaction premium brand
Ram, highest satisfaction popular brand
"AutoPacific [awards] give consumers true, unbiased insight into which vehicles are providing their owners with the most satisfying experience," said George Peterson of AutoPacific. Scores are based solely on owner input about 27 individual attributes ranging from driving performance to seating comfort and interior design for a comprehensive view of the ownership experience.
AutoPacific divides individual categories into only two groups – passenger cars and light trucks – but we've divided the winners into five: luxury cars, mass market cars, light trucks/minivan, luxury sport utility vehicles and crossover vehicles, and mass market SUV/CUVs.
Here is our breakdown of the award categories:
Mainstream cars
Subcompact car: Nissan Versa
Compact car: Kia Soul
Premium mid-size car: Hyundai Sonata
Large car: Chrysler 300
Sports/sporty car: Dodge Challenger
Luxury cars
Compact luxury car: Mercedes-Benz A-Class
Standard luxury car: Alpha Romeo Giulia
Executive luxury car: Mercedes-Benz E-Class
Premium luxury car: Genesis G90
Mainstream SUV/CUVs
Subcompact crossover SUV: Hyundai Kona
Compact crossover SUV: Kia Sportage
Mid-size crossover SUV: Subaru Forester and Nissan Rogue
Premium mid-size crossover SUV: Hyundai Santa Fe
Large crossover SUV: Kia Telluride and Hyundai Palisade
Mid-size SUV: Toyota 4Runner
Large SUV: Nissan Armada
Luxury SUV/CUVs
Compact luxury crossover SUV: Audi Q3
Standard luxury crossover SUV: Alfa Romeo Stelvio and Cadillac XT5
Executive luxury crossover SUV: BMW X6
Premium luxury crossover SUV: Tesla Model X
Luxury SUV: Lincoln Navigator
Light trucks/Minivan
Compact pickup: Honda Ridgeline
Full-size pickup: Ram 1500
Minivan: Kia Sedona
A lot more details are available about all the winners in the AutoPacific press release announcing the satisfaction awards, now in their 24th year.
The full list of attributes that go into the AutoPacific awards are braking, brand reputation, cargo access and capacity, cargo area lighting, driver's seat visibility, driver's seat movement/positioning, ease in and out of driver's seat, exterior size, exterior styling, front seats (overall comfort), fuel economy/gas mileage, fun to drive, gauges and controls (simple to understand), handling, interior storage/compartments, interior styling, monthly payments, overall durability/quality/reliability, passenger roominess, power and acceleration, price, quietness inside vehicle, range (miles to refuel/recharge), safety features and ratings, vehicle's ride, factory warranty, and wheel size and style.
AutoPacific is a marketing research and product-consulting firm that publishes a variety of syndicated studies on the automotive industry. The firm also conducts extensive proprietary research and consulting for auto manufacturers, distributors, marketers and suppliers worldwide.