Customers of Santander UK are among the first to have an Apple Pay mobile payment option with the product's launch in Great Britain.
Apple Pay enables customers to link their debit or credit card or a business banking debit card to an iPhone 6, iPhone 6 Plus or Apple Watch to make secure payments at contactless point-of-sale terminals.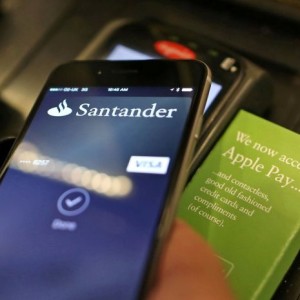 "Digital technology is rapidly changing how customers bank and pay on the move, and we are working to be at the forefront of that change," said Nathan Bostock, CEO of Santander UK, a business unit of global banking giant Santander Group of Spain. Dallas-based consumer lender Santander Consumer USA and Boston-based Santander Bank NA are part of Santander Group.
"Apple Pay is set to change the way we pay for products and services in the U.K., so it was the obvious choice to offer our customers," Bostock said when Santander announced it would provide the option. "We want to offer our customers more choice and control in managing their money anytime, anywhere … [and] with Apple Pay they will have convenience and added safety and privacy, too."
More than a quarter-million shops across Great Britain will accept payment through Apple Pay, along with London transportation systems, according to The Telegraph online.
With Apple Pay, actual debit and credit card numbers are not stored on the device or on Apple servers. Instead, a unique device account number is assigned, encrypted and securely stored on a device, with a one-time security code authorizing each transaction instead of the code from the back of a card. Online payments also can be authorized using the iPhone's Touch ID fingerprint sensor.
Apple hopes the system will appeal to consumers because it will reduce the number of items they need to carry around, while the fingerprint reader offers an extra layer of security, The Week reported.
Apple Pay's launch in Great Britain follows its U.S. introduction by about nine months.