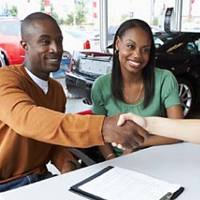 The following post originally appeared on our RoadLoans blog, The Open Road.
We think financing or refinancing your vehicle with RoadLoans is a smart choice, but don't just take our word for it.
Our customers are having "quick, painless and very easy" experiences with RoadLoans, and some have taken the time to let us know how they feel about our product. Following are some reviews from real customers who were invited to comment on their experience, which you also can find under "Customer Reviews" on the website:
"First, let me start by saying Thank You. After my divorce, I thought I (would) never bounce back, but getting approved for a loan to be able to get a nice car was the jump start I needed," wrote Benjamin C. "The process is simple and so easy."
"Was looking to get a better car, but my credit score is not that great since I lost 75 percent of my income a couple years ago," Delcio D. commented recently. "RoadLoans was the only one to give me a hand. Thanks RoadLoans, I will not disappoint you."
When every bank turned us down after 4 months of being without a vehicle, we were surprised that RoadLoans gave us another chance," wrote Karol S. "Thank you!"
"I couldn't believe how quick and easy RoadLoans made my car buying experience," said Lainisha T. "I will definitely use RoadLoans again and recommend them to everyone."
To read more customer comments, go to "Reviews" at the top of the RoadLoans home page, www.RoadLoans.com. You also can write a review at the "Share a Review" tab on the bottom left of the "RoadLoans Customer Reviews" page.
We look forward to hearing from you about your RoadLoans experience!