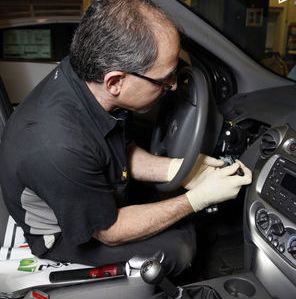 American car buyers apparently don't hold a grudge.
Oh sure, almost half of them know about massive recalls recently by Toyota and General Motors, but that hasn't significantly hurt buyer enthusiasm for products of those two automakers.
The majority of new-car shoppers are unaffected by GM's recall, according to Kelley Blue Book. Or recalls of any other brand, including Toyota, which outpaced even GM in the percentage of shoppers who remembered hearing news accounts of the automaker's action.
"Among new-vehicle shoppers, there is strong awareness of Toyota and General Motors recalls.  KBB.com survey data revealed 48 percent of respondents remembered a Toyota recall and 40 percent heard about a GM recall this year," according to Kelley Blue Book.
"While car shoppers are aware of major recalls on Toyota and GM models due to their publicity in the media, consumers are still shopping those brands on KBB.com."
Other recent headlines related to Toyota and GM auto sales from TheCarConnection.com and others:
– Toyota Motor Sales posts double-digit gains in April
– Despite recall headlines, GM sales remain strong (for now)
– GM, Chrysler, Toyota see healthy boosts in April car sales
– Despite recalls, car sales are robust in April
– GM defies recall taint as U.S. rebound spurs truck demand
Meanwhile, KBB.com traffic for Chevrolet (a GM product), which ranked third on the list of brands with recalls shoppers remembered, grew 25 percent year-over-year – although the brand did suffer a short-term dip of 14 percent from December 2013 to April 2014 that can be attributed to news of the recall.
"This confirms Chevrolet is benefitting from recent high-profile vehicle launches, including the all-new 2014 Corvette, Impala and Silverado," said KBB. "These models are helping the automaker remain top-of-mind among shoppers despite recalls on older, discontinued models."
"Whatever negative connotations GM has suffered from the recent recalls is minor when compared to the growing consumer interest the company has generated with its current line of compelling products,"  said Karl Brauer, senior analyst for Kelley Blue Book.
Considerably fewer new-vehicle shoppers remembered recalls of other brands:
Fourth on the list was Ford at 11 percent, followed by GMC, 9 percent; Honda, 8 percent; Chrysler, 7 percent, and Tesla, Jeep, Saturn, Buick, Nissan and Pontiac, all 4 percent or less.
General Motors retained a commanding 18.3 percent of market share in April, down slightly from a year earlier, according to research group TrueCar and reported in the Los Angeles Times, outpacing Ford at 15.3 percent, Toyota at 14.5 percent and Chrysler at 13 percent.
In fact, it was Ford, not GM or Toyota, that suffered a sales decline in April – about 1 percent – which must have that automaker's executives scratching their heads.