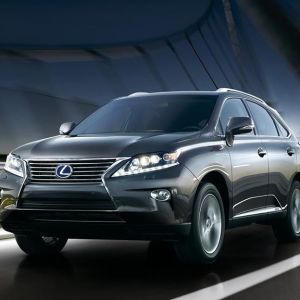 What, you worry?
Well, not if you were driving one of the 15 new cars and other vehicles listed here.
At least that's the opinion of Cars.com, which recently released its list of the most worry-free 2014 new car models available, with the "best mix of reliability ratings, expected maintenance costs and warranty."
And who came out on top? Toyota, which, between its Toyota and luxury Lexus brands, dominated with 10 vehicles on the Cars.com ranking of 15 vehicles – fully two-thirds of the list – including the No. 1 ranked worry-free vehicle, the Lexus RX 450h, with a Kelley Blue Book price around $43,642.
Honda with three, including Acura, Chevrolet and GMC snagged the remaining five positions.
"Car shoppers have a lot to sort through when looking for a new car," said Cars.com with release of its first worry-free index results. "Is it big enough for the family? Does it have good fuel economy? Often, one of their biggest concerns is how much a car will cost to repair over time.
"We took a stab at translating a lot of information to give shoppers more peace of mind," Cars.com said.
But this blog also wanted to know which cars are most affordable among the 15 most worry-free, so we went to Kelley Blue Book for current market prices – taking the least expensive version of each vehicle. The vehicles on the Cars.com ranking range from $17,199 (KBB Fair Purchase Price) for the Honda Civic in 15th place on the index to the $68,030 Lexus LS 460 in 13th place.
The average KBB price of the 15 most worry-free vehicles was $34,235, with monthly payments (assuming a 20 percent down payment) ranging from $266 for the Civic to $1,054 for the Lexus LS 460. But the average KBB price dropped to $31,821 when we left out the luxury Lexus.
The KBB price of six vehicles on the Cars.com worry-free list was $20,000 to $30,000 – Toyota Camry Hybrid (5th place), Avalon (6), Tundra (7), Sienna (9), Camry (12) and Honda Ridgeline (10). Three of the four top-ranked vehicles were in the $30,000 to $40,000 KBB price range – the Lexus ES 350 (2nd place), Lexus RX 350 (3) and Acura TL (4). Four vehicles ranged from $40,000 to $50,000 – the Lexus RX 450h, GMC Yukon (8), Chevrolet Tahoe (11) and Toyota Sequoia (14).
The Cars.com "Kicking Tires" blog provides an ordered ranking with worry-free index points.
The ranking resulted from an analysis of Cars.com consumer reliability scores and years of reliability data from two leading industry sources, J.D. Power and Associates and Consumer Reports.
See the Santander Consumer USA blog for more news on auto-, auto-finance and SCUSA-related topics.