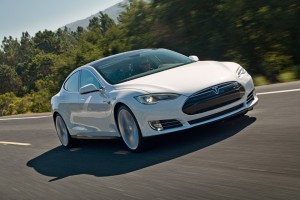 The election season "loser," California-based Tesla Motors, is a big winner despite criticism by candidate Mitt Romney during this year's presidential campaign.
The Tesla Model S Electric was named Motor Trend magazine's 2013 Car of the Year, the first time a non-gasoline powered vehicle was selected for the award by the publication, according to Susanna Kim in a blog post at abcnews.go.com. Motor Trend said the car was "truly a game changer."
"It's a gorgeous car and a packaging miracle," seating up to seven passengers, Edward Loh, editor-in-chief of the magazine told Kim, adding that the electric car "doesn't look dorky."
The price tag on the "incredibly controversial" Model S, which received funds from the federal government, runs from $50,000 to $98,000, depending on battery options and upgrades, Kim wrote.
The Model S made news a few weeks ago when Tesla Motors announced that it had set up six solar-powered "supercharger" stations in California with plans to expand nationwide. The Model S is the only vehicle right now that can take advantage of the proprietary technology involved.
We reported the Tesla "supercharger" announcement Sept. 27 on our blog here at RoadLoans .com under the headline "Putting a charge into electric car technology."
The Tesla Model S beat a range of Car-of-the-Year finalists comprising luxury and family cars.
Those included the Ford C-Max Hybrid, Ford Fusion, Honda Accord, BMW 3 Series, Lexus GS, Porche 911, Porche Boxster and Subaru BRZ, according to the magazine and blogger Kim.
But maybe the Motor Trend evaluation shouldn't come as too much of a surprise.
After a test drive, Car and Driver magazine said: "The 362-hp Signature model we drove … strained its leash with its prodigious electric muscles and flat-tracked through 80-mph sweepers directed by fast steering with piano-wire tension to the wheels. It pounced from an on-ramp like the jaguar on the hood of the Jaguars it resembles, hitting 100 mph with a whisper of electromotive acceleration."