One million miles.
It's the distance to the Moon and back. Twice. With a few miles left over.
Most of us don't drive our cars 200,000 miles as long as we own them, let alone one million miles.
But a million-mile car is just what delivery driver Farrah Haines of Olathe, KS, who drives about 200,000 miles a year, achieved in her 2013 Hyundai Elantra, according to Hyundai Motor America.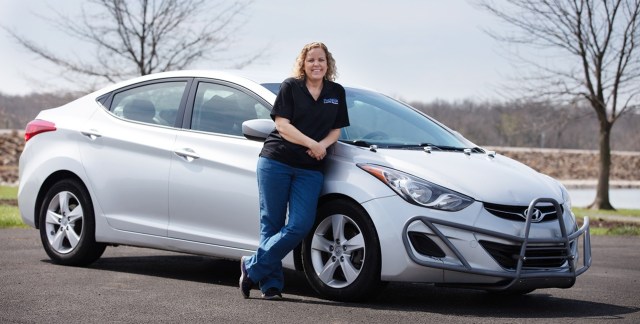 Since most digital odometers stop before one million, Hyundai representatives joined Haines as she hit her epic milestone in only five years – then presented her with the first-ever million-mile emblem (1M).
"This is not only a milestone for Farrah, but also for Hyundai," said Dean Evans, a company spokesman.
"Reaching one million miles with the original powertrain in just five years is an extremely rare and incredible achievement."
But the 1M emblem wasn't the only thing Hyundai had for Haines, who delivers auto parts and other products day and night, seven days a week, when she made what she thought was parts delivery.
She was surprised by friends, family – and a 2019 Elantra.
"My Hyundai has been a great car to me," said Haines. "I love to drive and have made a successful career of it, so it was no surprise that I was able to get to a million miles … While it feels a bit like starting over, this gives me the opportunity to hit a million-five."
Hyundai ran multiple tests to validate Haines' odometer reading, inspecting her engine, service records and other parts, and reviewing mileage records for her two jobs, as well as a VIN report and Carfax.
As far as million-mile stories go, Haines' is a good one, but not the only one.
Here is a list of 20 others, including owners, miles driven, and current operating status, compiled by The High Mile Club and The Cheat Sheet:
High Mile Club top 20
1966 Volvo P1800, Irv Gordon, Long Island, NY, more than three million miles, active
1976 Mercedes-Benz 240D, Gregorios Sachinidis, Greece, 2,858,307 miles, retired
1963 Plymouth Fury, Joseph Vaillancourt, Montreal, Canada, 1,621,591 miles, retired
1963 Volkswagen Beetle 1200, Albert Klein, Pasadena, CA, 1,613,281 miles, retired
1983 Lincoln Towncar, Chet Berlisle, Topeka, KS, 1,300,000 miles, unknown
1991 Chevrolet Silverado, Frank Orsenick, Shawano, WI, 1,289,882 miles, unknown
1966 Mercedes-Benz 250SE Coupe, Ben Clopot, Beverly Hills, CA, 1,283,575 miles, active
2006 Chevrolet Silverado 3500 HD, Hugh and Tammy Pennington, 1,220,935 miles, unknown
1991 Honda Accord EX, Rodney B., not available, 1,165,788 miles, unknown
1994 Honda Accord EX, David Witte, Washington, D.C.-area, 1,081,382 miles, unknown
1970 Mercedes-Benz 280SE, George and Luzstella Koschel, Orange County, CA, 1,019,000 miles, retired
1990 Honda Accord, Joe LoCicero, NA, 1,002,507 miles, active
1989 Saab 900 SPG, Peter Gilbert, Wisconsin, 1,001,385 miles, retired
1988 Volvo 740 GLE, Vic Dres, Grover Beach, CA, 1,000,899, unknown
1993 Honda Accord Wagon, Gordon Bearss, NA, 1,000,000 miles, unknown
1996 Dodge Ram 2500, Dan Edelman, New York, 1,000,000, unknown
1987 Volvo 240, Selden Cooper, Baltimore, MD-area, 1,000,000 miles, active
2006 Civic LX, Paul Habib Jr., Indiana, 1,000,000 miles, active
1995 Toyota T100, Nancy Richardson, NA, 1,000,000 miles, retired
2007 Toyota Tundra, Victor Sheppard, Houma, LA, 1,000,000 miles, retired
"My truck looks great, and, except for a few little dents, it's almost like new," said Sheppard when he achieved the milestone in 2016 after eight years. "Even the seats look just as they were when I bought it. They're not as clean, of course, but they're not busted or worn out."
Sheppard racked up an average of 125,000 miles a year on his truck as he regularly drove long-haul trips from Louisiana to North Dakota, Wyoming and Virginia for his job.
Like Haines, Sheppard received a new version of his car from Toyota Motor North America.
Website iSeeCars.com currently lists 14 vehicles claiming more than 1,000,000 miles, the most-recent of which is a 1997 Ford E-350 base model, with 1,040,266 miles.
One of the keys to driving a million miles, according to Haines and other owners?
Regular maintenance.
"Owners that want their rides to last forever have to meticulously maintain every little detail, from all of the car's mechanicals to its exterior paintwork," suggested CarBuzz.
"They are committed to their cars for the long haul. Literally."