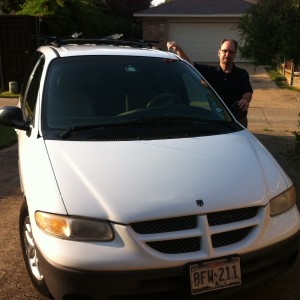 The following post originally appeared on our RoadLoans blog, The Open Road.
Our family's well-used car is about 13 years old, with 128,000 miles on the odometer. But instead of being out of step, it seems we are just about in line with most Americans.
A new R.L. Polk study says the average age of American light vehicles is about 11.4 years, the highest average ever, while the average age of light trucks is slightly lower than the overall at 11.3 years. That means there are a lot of well-used vehicles on the roads.
In any case, we are satisfied that our 2000 Dodge Caravan, while a little behind the times on fuel economy, still can haul us on our commute on LBJ and Stemmons expressways in Dallas, and serve our needs for a vehicle to take us shopping and running around town. (We have a newer car by about a decade, but our son uses that at college, so we rarely get to see it let alone use it regularly.)
The average age of American light vehicles – those used cars, pickups and CUV/SUVs that most of us drive – has climbed for 11 consecutive years, from an average 9.8 years in 2002, according to Polk, an automotive research, analysis and marketing company.
The latest data is based on a review of over 247 million U.S. car and light truck registrations in January.
We probably are typical owners whose old vehicle likely is worth more to us paid off than used as a trade in. And we're counting on the notion that vehicles are engineered and assembled to last longer, one of the reasons analysts often cite when trying to account for the rising age of used cars.
"These are interesting times for the automotive aftermarket," said Mark Seng, vice president of Polk's aftermarket practice in an article by Mark Rechtin in Automotive News.
"Independent and chain repair shops should be paying close attention to their business plans and making concerted efforts to retain business among the do-it-for-me audience, while retailers have a unique and growing opportunity with potential consumers wrenching on their own vehicles."
We would be in the "do-it-for-me audience," wondering how long we can keep the Caravan on the road – and when we'll become part of that pent-up demand analysts describe as spurring new-vehicle sales.
Meanwhile, my superstitious side frets about writing of a still-functioning, 13-year-old, well-used car.