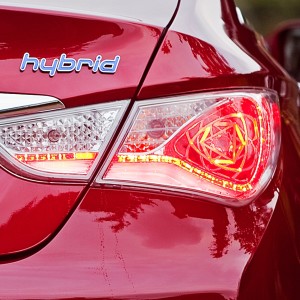 Honda is no longer the king of green. Hyundai-Kia took the top spot in the Union of Concerned Scientists' annual environmental performance rankings.
The rankings, which measure the pollution emissions of each automaker's fleet, also showed that the eight best-selling manufacturers in the United States all made improvements in environmental performance. This year marks the first time that all eight companies have reduced their average emissions compared to their 1998 fleet averages.
"Thanks to strong federal and state emissions standards, the average new car has gotten 43 percent cleaner since 1998," the report stated.
Hyundai-Kia took the top spot by focusing on fleet-wide efficiency improvements. Investments in hybrid-electric, battery-electric and hydrogen fuel-cell technology is paying off for the company and will continue to help the Korean auto giant lower its emissions.
Hyundai-Kia was followed closely by Honda, while Toyota, Nissan, and Volkswagen tied for the third.
The three U.S. auto-makers brought up the rear; Ford placed sixth while GM and Chrysler brought home seventh and eighth. Despite this, Ford has made strides recently by putting a heavy focus on its vaunted EcoBoost engine, which uses a turbocharger to maintain performance while increasing efficiency.
If Honda wants to retake the top-spot, the company will need to improve the efficiency of both its midsize fleet, including the best-selling Accord sedan, and its Acura luxury fleet. Honda's midsize fleet, which accounts for a quarter of the company's sales, actually lags behind the industry average.
Ford has made the biggest strides of any automaker since the rankings began in 1998, and appears to be pulling away from GM and Chrysler. If Ford continues to put an emphasis on its EcoBoost engine, which is available in popular models like the Focus, Escape and F-150, it can expect to see a continued rise in efficiency.
Despite bringing up the rear, both GM and Chrysler have the potential to improve greatly in the coming years.
GM has had success with the Volt plug-in hybrid and the efficient Sonic. If the company focuses on downsizing its engines while also working to hybridize its fleet, GM could make major strides. Chrysler should source hybrid technology and more-efficient, smaller engines from its parent company, Fiat, to move closer to the industry average for fuel efficiency.
The Union of Concerned Scientists is a nonprofit advocacy organization that promotes environmental and sustainability solutions based on independent scientific analysis.