Everybody knows that you have to buy a new vehicle to get great technology. And that leaves a lot of shoppers out in the cold, right?
Well, maybe not, according to Edmunds.com car-shopping website, which suggests that recent used cars already may come equipped with the technology you want.
"Car shoppers don't need to buy a new car to experience modern vehicle technologies … [In fact] many of the same high-tech features found in new cars – such as Bluetooth, blind-spot monitoring and back-up cameras – are readily found in pre-owned cars that are priced at thousands of dollars less."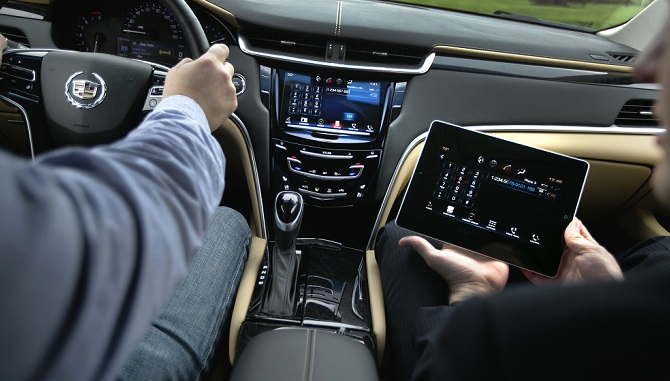 "Many shoppers will be surprised to learn how many used cars currently available are loaded with advanced technology," said Ron Montoya, senior consumer advice editor at Edmunds.com. "Buyers looking at certified pre-owned cars or those in two- to three-year-old range, for example, are very likely to find technology that's comparable with what can be found on a new-car lot."
"The key to zeroing in on high-tech used cars is to identify the years when these technologies hit a critical mass," said Edmunds. "That way, shoppers can set a baseline model year to better manage their expectations of finding cars equipped with these technologies."
For example, let's say your minimum technology requirements are dual-zone climate control, Bluetooth, back-up camera, blind-spot monitoring and adaptive cruise control.
You could fill your entire wish list with many used vehicles from 2013 or newer.
Two key technologies are blind-spot monitoring and adaptive cruise control, both of which were available on about one-third of vehicles as a standard or optional feature by 2013.
Otherwise, back-up cameras, which have become "increasingly standard on a number of vehicles in the past couple years," according to Edmunds, was available as standard or optional in nearly 60 percent of available models by 2010. And Bluetooth, which wirelessly syncs your mobile device to a vehicle's audio system, is widely available on even older vehicles, having "exploded" as a feature in 2009, when 81 percent of all models offered the technology either standard or as an option.
Oh, and dual-zone climate control? That's been available on more than half of all models since 2006.
"This feature doesn't scream 'high-tech' like others on this list," said Edmunds, "but it's a must-have solution for any driver who has ever fought with a passenger over the temperature of the car."
The big question seems to be how old is too old when shopping for car technology.
Five years and older, especially regarding navigation systems or electronic interfaces, according to Montoya, who referred to the two- to three-year time frame as the "sweet spot" for used vehicles, when technology still is relatively current but has taken its biggest depreciation hit.
"That means used-car shoppers pay less for car tech than new-car shoppers," Montoya wrote.
Which might be the best of both worlds.