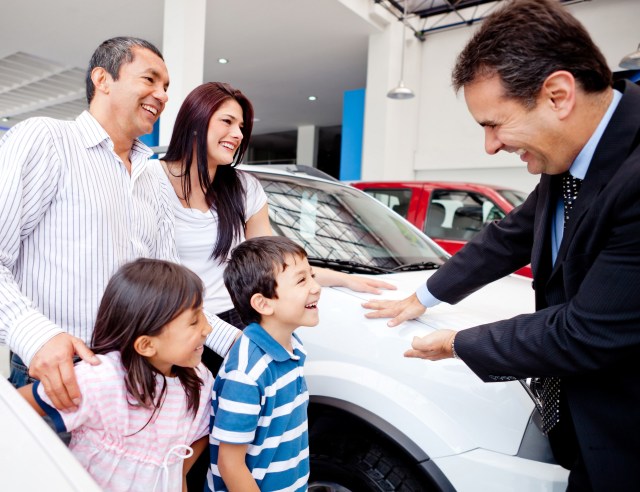 OK, so you've figured out the model car you want to buy.
We know it wasn't easy if you did it right, but it probably was satisfying, maybe even enjoyable.
But if you don't figure out how to find a great car dealership for your next purchase, new or used, that feeling of accomplishment can disappear pretty quickly.
Fortunately, it doesn't have to be a shot in the dark anymore.
Let's say you want to purchase a recent model year of a specific midsize SUV (the more recent the better) priced at between $24,000 and $26,000 based on the 20/4/10 rule – 20 percent down payment, four years of financing, no more than 10 percent of your gross income.
RELATED
Here's how long a car should be financed new or used
And you want to narrow your search to dealerships within about a 10-mile radius of your location.
Here's one way to proceed:
Identify dealerships with vehicles that match your description using websites such as, KBB.com (Kelley Blue Book), Cars.com and iSeeCars.com.
Use the same sites as above, plus other review sources such as Google, Yelp and Facebook, to compare dealership ratings and further narrow the scope of your search.
After finding dealerships in your search area that get good reviews, read actual reviews posted online – good and bad – for a clearer picture of what to expect.
Visit your top dealership choices based on what you have learned to see for yourself and to test drive the vehicles you are thinking about purchasing.
Don't forget that the showroom and car lot will be just a part of your experience, and that the service department also should be taken into account on your visit.
Our sample search identified six dealerships in our area that were selling the model we picked – only two of them franchise dealerships for that make of vehicle – three apiece by KBB and Cars.com. The vehicles ranged from model 2015 to 2017 with prices from $23,395 to $26,195.
Focusing on the newer models from 2016 and 2017 reduced the number of dealerships to four and the number of vehicles to six with one dealership stocking three 2017s.
Here are their ratings:
Dealership No. 1 – one 2016 model
KBB rating 4.9 of 5 stars (1,549 reviews)
com 4.9 stars (1,618 reviews)
Google 4.8 stars (230 reviews)
Yelp stars 4.5 (39 reviews)
Facebook 4.2 stars (98 reviews)
Dealership No. 2 (franchise) – one 2016 model
KBB unrated
com 4.3 of 5 stars (931 reviews)
Google 4.5 stars (4,090 reviews)
Yelp 1.5 stars (251 reviews)
Facebook 3.7 stars (738 reviews)
Dealership No. 3 (franchise) – one 2016 model
KBB rating 4.9 of 5 stars (1,082 reviews)
com 4.9 stars (1,097 reviews)
Google 4.5 stars (564 reviews)
Yelp 4 stars (51 reviews)
Facebook unrated
Dealership No. 4 – three 2017 models
KBB rating 5 of 5 stars (3 reviews)
com 4.8 stars (88 reviews)
Google 4.4 stars (165 reviews)
Yelp 3.5 stars (20 reviews)
Facebook unrated
Dealerships No. 1 and 3 appear to have the highest ratings with the most reviews, but Dealership No. 4 also has three 2017 models in stock in our price range and generally good ratings.
The reviews themselves are easy to find on KBB, not as easy on Cars.com, but both are helpful.
"We visited [Dealership No. 4] and loved the experience. No pressure and they have a great selection of pre-owned cars under one roof," wrote one customer on KBB.com. "When we were ready to test drive and select a car, it was easy and the most pleasant car-buying experience we've had. We believe we paid a fair price for our car. I recommend them."
"I was so amazed at the impeccable customer service and no haggling philosophy that this dealership provides," said a Cars.com reviewer. "I was a dedicated customer to another dealership for many, many years and have made the switch because of the operation that they are running at [Dealership No. 4]."
And then there was this from another Cars.com reviewer:
"Great cars, no pressure in business process. However, just a little hope that [pricing was] more transparent. I had completely no improvement with sales representatives when negotiation, so I did not buy the vehicle. But it was a great experience visiting this place."
Reviews also are available at DealerRater.com, where you can search for the dealerships on your list. A simple Google search usually will provide Google, Yelp and Facebook results. Some dealership websites show reviews, although those comments are not always easy to locate.
Once you're satisfied you've narrowed the choice of dealerships based on others' customer experiences, you probably are ready to visit your top dealership or dealerships to see for yourself. There you can test drive the dealership as well as the vehicle you are thinking about purchasing.
How to find a great car dealership still may not be easy, but it doesn't have to be a total mystery, either. Our research may help provide a clear direction for a good buying experience.