The world of electric cars (EVs) turns fast.
And despite sluggish sales – except for Tesla (see below) – carmakers appear committed to electrifying their model lineups to reflect government environmental mandates.
But, of course, that could change in an instant if the technology leaps forward.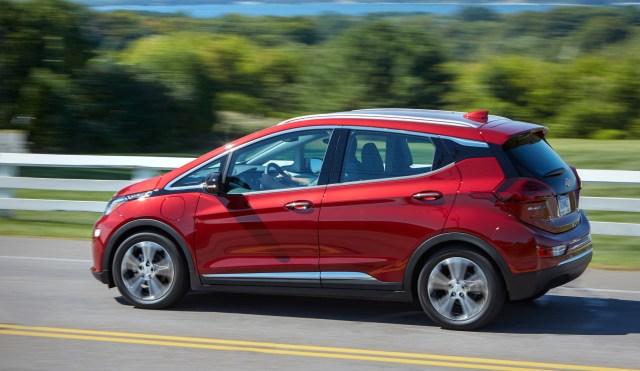 The brief electric car news stories here reflect the present and possible future of EVs on the American roadscape and may enable you to keep up to speed on the latest developments.
Faster charging for electric vehicles
Charging an electric vehicle can take more than an hour – all night for some – a major challenge to selling more EVs, automotive experts say. Now imagine an electric vehicle that charges nearly as quickly as filling up at a gasoline pump. Pretty soon you may not have to imagine.
"General Motors will come quite close to achieving that goal when it starts rolling out its BEV3, or third-generation battery-electric vehicle platform, this year," reports The Detroit Bureau.
"We'll be able to reach a 90 percent charge in just 10 minutes," a GM executive told The Detroit Bureau, though hitting that goal fleet-wide likely will happen in stages.
Where would EV sales be without Tesla?
Tesla is driving away with the U.S. electric-vehicle market, commanding at least 60 percent of sales, based on the most recent data available. The Tesla Model 3 alone, which has a manufacturer's suggested retail price starting around $39,990, represented almost half of all plug-ins sold in 2019, and sales for about 40 other EVs available actually declined over the last two years.
"Tesla is keeping the U.S. electric car market alive and growing new data shows," said a report in Electrek, a news and commentary website, based on a Bloomberg analysis.
Electric vehicles currently represent less than 2 percent of U.S. new-vehicle sales, Forbes reported.
As if EVs didn't have enough hurdles …
There aren't enough batteries to go around as carmakers prepare to "rapidly ramp up production" of electric vehicles. South Korean automaker Kia, for one, says it believes "we could sell two or three times what we currently sell" in the U.S. if the company could get all the batteries it needs.
Electric vehicle production is "being constrained more by lack of [battery] manufacturing capacity than anything else," one expert recently told The Times of London.
"There's a big push to address the problem," reported The Detroit Bureau, with plans to double capacity of large-scale battery plants in the next several years. Until then, "manufacturers will have to cope with shortages for at least the near to midterm."