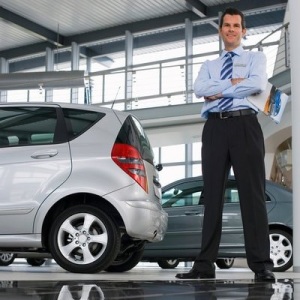 So you're ready to buy a new car, truck, crossover or SUV.
You've done all your homework and have pared your list to three models, say Toyota Avalon, Hyundai Sonata and Chrysler 200 (although it could be any of 57 brands and their 360-plus models).
You're planning on doing test drives, which experts seem to agree is an important step in the process. And there are Toyota, Hyundai and Chrysler dealerships nearby. You even may have purchased a previous vehicle from one of them or received a recommendation from a family member or friend.
But that's where many shoppers stop doing their homework, despite the importance of a dealer relationship to the overall car-buying (and service) experience.
That's also where DealerRater – a free website which bills itself as "North America's No. 1 online resource for anyone seeking third-party information about automobile dealerships" – may be a factor.
DealerRater comprises more than 1.5 million consumer reviews, includes information on 40,000 vehicle dealers in the United States and Canada, and claims more than three million unique visitors a month – other shoppers who won't take a chance with the choice of a dealership any more than their car choice.
In the case of the example above, we found 13 Toyota dealerships, 12 Chrysler dealers and 8 Hyundai stores on DealerRater – a total of 33 locations – within 25 miles of a sample ZIP code.
Obviously, that still is too many to visit, but the website enables visitors to narrow the choices.
In our example, we found the following:
One Toyota location 12.1 miles away receiving recommendations from 99 percent of 414 reviews and another 4.6 miles away receiving recommendations from 98 percent of 1,110 reviews.
Three Chrysler dealers with 100 percent grades, although only one had more than 100 lifetime reviews.
Two Hyundai dealerships that scored recommendations from 98 and 97 percent of their reviews, although neither had feedback from more than 100 customers. (A third Hyundai dealer within our 25-mile radius did score 93 percent recommendations from 236 reviews.)
Now you could select with confidence three or four dealerships to visit for your test drives. And we found them nearly as quickly as it took you to read that last summary.
The website also provides access to all dealership reviews – which DealerRater ensures is "written by a real person, reflecting their real-life experience" – service reviews, recall information, selected dealer employee reviews, and listings of new and used cars for sale with detailed descriptions.
Take this test drive, and DealerRater may help you choose your next car dealer.
See the Santander Consumer USA blog for more news on auto-, auto-finance and SCUSA-related topics.