I always knew this day would come.
As I watch my children grow and experience life events – first words and steps, kindergarten graduation, team sports wins (and losses), braces, grade reports – it has all lead to where we are now.
In the market for a car for a first-time buyer, my teenage son.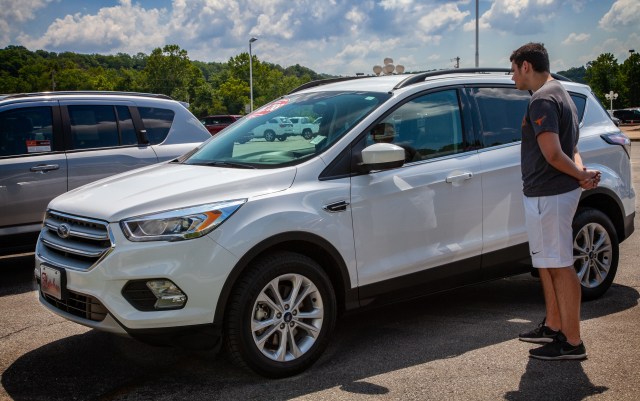 While he's just recently completed a formal driving class and gotten his driver's permit, we are already considering what set of wheels will be getting him around once he officially turns 16.
I'll preface this article to say that I grew up in an automotive family – both my grandfather and uncle were dealers. So this particular rite of passage holds some extra weight to relatives on my side. Though getting that first car is a huge deal for anyone, given the fact there was a dealership with our name on it, it was especially big in my family. Meaning there was no shortage of advice.
I still remember my 16th birthday when I was handed the keys to my first car. A 1980 Volkswagen Rabbit that would transport me through high school and the many adventures surrounding that period of time.
So now my son is facing this same scenario, and we as a collective car family have begun looking (and offering a flood of unsolicited advice) for his version of my Rabbit.
Narrowing It Down
A lot has changed since the days I was searching for my first car, and like anyone looking for a vehicle for the first-time car owner, we have a lot of questions. Many of these are rooted on a parent's idea of what's important for a first car versus the student driver's top features, which, like most things, differ.
While we see safety, reliability, fuel economy, mileage, price, price and price as most important, my son's preferences lean more toward aesthetics – body style, technology, color, sport packages.
The trick is to combine all of these to make both sides happy. No easy task.
There are some things we know for sure. He isn't going to get a brand-new, right off the showroom floor vehicle. (Sorry, Buddy.) Unlike my first car – a manual transmission – he will be getting an automatic. We live in a major urban area where sitting in traffic is a regular routine – not fun with a stick shift.
We will, however, allow him a vote on color choice: His top three – black, white, silver – we all can work with.
Since we are buying used, we want to make sure it is a certified pre-owned (CPO) vehicle. Preferably something with a documented thorough inspection and some warranty life left on it.
Being the parent, I want the vehicle we choose to have ESC, or Electronic Stability Control. A system in a lot of cars after 2011, it automatically helps with driving and maneuvering by stabilizing a vehicle if it goes through an extreme maneuver. A good thing for those with less experience behind the wheel.
Shopping Around
According to a recent "Auto Shopping in America" survey conducted by Adtaxi, an overwhelming majority (86 percent) of those shopping for a car do their research online before visiting a dealership. Falling into this percentage, we began our analysis on the Web as well.
There are a lot of great resources out there, including many on our own Santander Consumer USA (SC) site. This article was particularly helpful as it covered many of the elements we were looking to compare in used vehicles – affordability, electronic features and safety – to name a few.
The 12 must-read blog posts before you go shopping for your next vehicle was also handy as an all-encompassing post with links to several different relevant articles for shoppers.
Additionally, we spent a good chunk of time online looking at vehicle shopping and review sites such as Autotrader, Cars.com, Edmunds, Kelley Blue Book, NADA Guides, J.D. Power, iSeeCars.com, Consumer Reports and U.S. News & World Report.
These were all valuable virtual tools for helping us narrow down our choices further. More specifically, we were able to eliminate what wouldn't work for us. There are, after all, more than 2,700 possibilities to consider from the past 10 years as this infographic shows.
We also have visited several dealerships. OK. More than several. Fact is, while looking for an automobile online is incredibly helpful, there's nothing like physically going to a car lot to look at a specific vehicle and literally kick the tires to help make your decision.
Moving beyond traditional dealerships, we've perused some auto auctions and car shows over the years and have the upcoming State Fair of Texas to get a better idea of the range of features available on vehicles these days.
As we continue the shopping journey and inch closer to getting an auto loan for our first-time buyer, I feel we've made a lot of progress and narrowed it down to a small list of vehicles that will work for all parties involved. This includes my teen, who will soon go from student permit holder to full-fledged licensed driver.
I always knew this day would come, I just didn't think it would get here so quickly.