Made in America.
Three words that carry special meaning as we approach the Fourth of July – Independence Day – the most American of all holidays – at least in the United States.
Many think Made in America doesn't apply anymore to most vehicles sold in America.
While there may be some truth to that, it doesn't mean Americans who are feeling especially patriotic have no choice but to purchase vehicles manufactured elsewhere.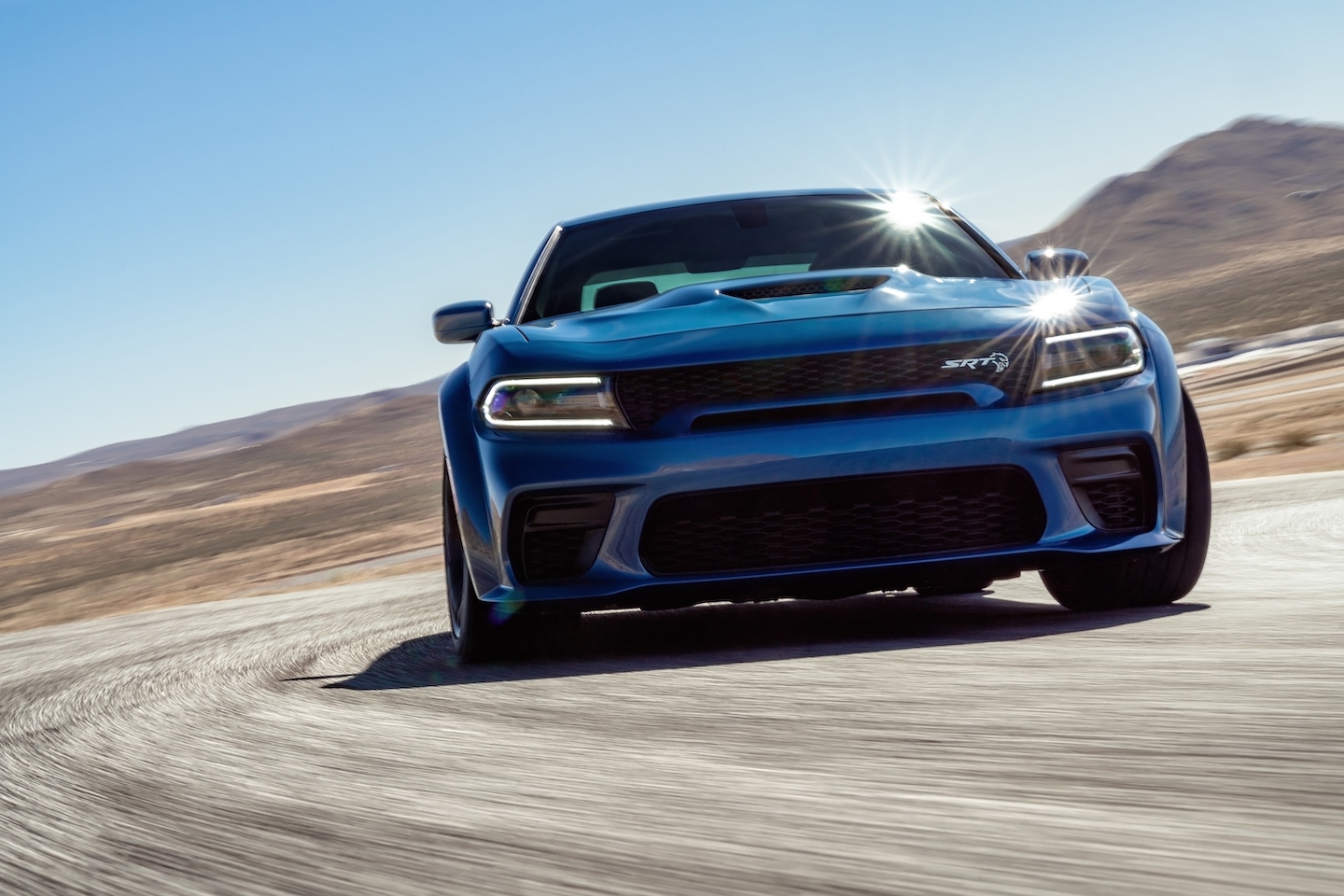 Credit: Dodge via Newspress USA
The Dodge Charger roared into our most-American-made-cars list.
That's especially if you count Canada as American – which it is, of course – our northern neighbor which celebrates Canada Day, their equivalent of Independence Day, on July 1. The National Highway Traffic Safety Administration (NHTSA) also combines the U.S. and Canada in its American Automobile Labeling Act Report, intended as an aid to consumers considering a car purchase.
That still matters for many, according to a Cars.com survey, with more than two-thirds of consumers who responded to a May survey saying they consider U.S. economic impact when shopping for a vehicle. This was essentially unchanged from last year, the website reported.
Meanwhile, almost one in four respondents said the COVID-19, or coronavirus, outbreak will make them more likely to purchase a U.S.-made model, said the Cars.com report.
We went mostly with the NHTSA definition of American made, while recognizing that Mexico also is part of North America and produces many parts and assembles a few vehicle models.
In time for the Fourth
Here's what we found, just in time for the Fourth of July shopping:
• 80 different vehicles with at least 50% of their parts made in U.S./Canada.
• 39 of those also are assembled in the U.S./Canada with engines and transmissions sourced here. That drops to 33 if we don't distinguish among different drivetrain variations.
• The 10 brands are represented by those 33 models.
• Another 36 vehicles count if we add Mexico into the American-made equation.
• Percentages for specific models and historical data are available at the NHTSA website.
The 33 vehicles that are left on our Made in America list (excluding drivetrain variations), along with the number of models are Honda (6); Fiat-Chrysler Automobiles (FCA), Ford, Cadillac, Acura and Tesla (4); Toyota (3), Chevrolet (2), and GMC and Lincoln (1).
American as apple pie
Only if a shopper is looking for a vehicle with 74% or more of American-made parts are the pickings truly slim, with just one clearing the hurdle: the Dodge Grand Caravan multi-purpose vehicle (MPV) manufactured in Windsor, Ontario, Canada, literally across the Detroit River from Detroit, MI.
Six models from three other brands, Ford, Honda and Honda's luxury nameplate Acura, made the All-America list with 70% U.S./Canada content and assembled here using U.S.-made or sourced engines and transmissions, according to the NHTSA labeling act report. They are the Ford Ranger, Honda Ridgeline, Passport and Odyssey, and the Acura TLX and TLX A-Spec.
Eight waving the flag
Eight more models, dominated by Honda but also including two FCA models, comprise at least 65% American-made parts, including transmissions and engines, with final assembly in the U.S. or Canada. However, it's an FCA model that comes closest to the 70% "apple pie" mark – the Chrysler 300 manufactured in Brampton, Ontario, at 68% U.S./Canada content.
FCA's Dodge Charger and General Motors' Chevrolet Camaro, both at 66% U.S./Canada content, are next on the list, followed by five models at 65%, the Acura RDX and RDX A-Spec MPVs, the Honda Pilot and Honda CR-V MPVs and the Honda Civic passenger car.
If we add Mexico content, the 300 and Charger soar to 90% and 88% American-made, respectively.
Others on the radar
Other vehicles with at least half American parts: Chevrolet Corvette (64%), Jeep Cherokee MPV (61%), Toyota Avalon and Toyota Tundra pickup (60%), plus 14 ranging from 50% to 59%.
Those are the Ford Explorer, Cadillac CT4 and CT5, Tesla Model S (all 55%); GMC Acadia and Cadillac XT5 and XT6 (52%); Ford Expedition (51%), and Ford F150, Lincoln Aviator, Toyota Sequoia and Tesla Model X, Model 3 Mid-Range/Long Range and Model 3 Long Range/Performance at 50%.
If Mexico content is taken into account here, most of these vehicles would leap to the range of 60-75% American made, with the Model X and Model 3 Mid-Range/Long Range at the top end.
And the bottom line
All this data means it's getting harder to be patriotic when shopping for a vehicle, if buying American-made products or products made mostly of U.S. parts is a way of expressing your patriotism.
But it also shows that you can be patriotic when buying a vehicle from a so-called Japanese manufacturer, because 13 of the 33 on our list are from Honda, Toyota and Acura. Which, of course, also means that 20 are from domestic manufacturers.
Still, if this list isn't enough – and you've already looked at the NHTSA data yourself – you can see another take on this subject of American-made vehicles at Cars.com.
There are a lot of choices for a new-car purchase if you're inclined to buy American.
Especially around the July Fourth holiday.