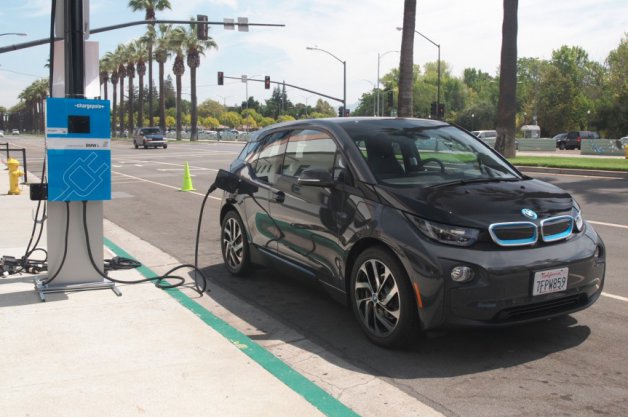 With gas prices at a four-year low, the end of the internal combustion engine any time soon may seem unlikely.
But an industry analyst has claimed German automaker BMW could phase out such engines from its vehicles in just ten years.
As reported by Green Car Reports, Ron Baron, a mutual fund manager whose funds have $250 million invested in Tesla Motors, wrote in a newsletter to shareholders:
"While many car companies doubt electric cars will ultimately represent a large portion of new car sales, BMW is not one of those companies.
"Two of our research analysts recently visited BMW's headquarters in Munich, as well as its electric vehicle and carbon fiber assembly plants in Leipzig, Germany, and its battery pack assembly plant and research facility in Dingolfing, Germany.
'Revolution underway'
"The BMW financial team believes a revolution in drive train is underway. We believe that BMW will likely phase out internal combustion engines over the next 10 years!"
This claim has received a mixed reaction. As Green Car Reports pointed out, there may be obstacles in the way, such as developing countries lacking infrastructure "to support adoption of plug-in electric and hydrogen fuel-cell vehicles."
Furthermore, in the case of China, "electric car charging remains a massive challenge for wealthy buyers living in apartment buildings – the majority of the urban housing in that country."
And hydrogen is "far more challenging to distribute than gasoline or diesel, given the high compression required."
Baron's revelation comes four years after the Nissan Leaf – seen as the first mass-market, purely electric vehicle (EV) – started deliveries to retail customers.
Green Car Reports suggests 2025 could be a "tipping point" for EVs based on the declining cost of lithium-ion cells and the rising cost to make combustion engines meet ever-more-stringent carbon emission standards.
Mostly electric by 2050?
Giving further industry-wide, global context on the future of the combustion engine, three scientists recently outlined how most vehicles would need to be electrically propelled by 2050.
That means a battery to store energy or an on-board hydrogen fuel cell to generate it.
Written by Patrick Moseley, Ronald Dell and David Rand, "Toward Sustainable Road Transport" notes that the current global fleet of vehicles, all types including two-wheelers, is currently 1.5 billion and will expand to two billion by 2020, citing rapid growth of internal combustion engine vehicles in China and India.
Meantime, there is a trend among automotive manufacturers, they say, "towards smaller internal combustion engines augmented by intelligent electrification".
Whatever the pace of change, as EVs become more mainstream the choice seems set to expand. Green Car Reports compares the cases BMW and Tesla. Tesla is planning to launch a smaller Model 3 in two to three years following the success of its premium sedan Model S, while BMW may add to its little i3 hatchback with a larger i5 EV.