About one-third of vehicle shoppers purchase new models.
If you will be among them this year, you probably are going to do a lot of homework beforehand to make sure you get the vehicle that best fits your lifestyle.
There are all sorts of best-of-2018 lists online heading into the new year.
In that new-year spirit, Consumer Guide Automotive named its "Best Buys" in 20 categories from subcompact cars and crossovers to premium large SUVs, minivans and large pickup trucks. The result is a list of 42 vehicles identified from among more than 250 candidates based on objective ratings and those that distinguish themselves as "a good dollar value compared to others in the class."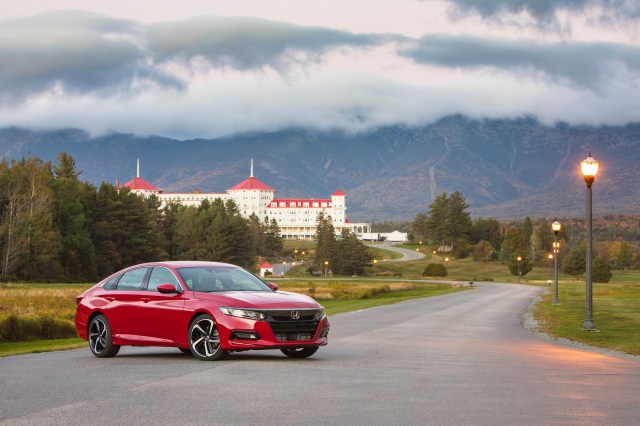 As in some other best-of lists, such as Kelley Blue Book, Consumer Guide named the Honda Accord a best buy – along with the Toyota Camry – from among 15 candidates in the midsize car category.
"Though their popularity has waned a bit over the last few years as American buyers shift to crossover SUVs in ever-greater numbers, midsize cars still account for a tremendous portion of U.S. sales," according to Consumer Guide, besting even compacts and subcompacts. Cars of all sizes still outsell crossovers (by a slim margin) and pickups, although sales are growing in the two latter categories, and eight of the 10 best-selling vehicles currently are crossovers and pickups.
RELATED
"Best Buy Archives" if you're shopping for a used vehicle from 2014-17.
Overall, the Guide names winners in nine car categories, five crossover/SUV categories, two large-SUV categories and two truck categories, along with the top minivan and electric vehicles.
Following are the 2018 winners, by category, including the number of candidates in each category:
Subcompact cars (12) – Toyota Yaris IA and Kia Soul
Compact cars (20) – Honda Civic, Toyota Prius and Volkswagen Golf Sportwagen
Premium compact cars (14) – Audi A4 and Cadillac ATS
Midsize cars (15) – Honda Accord and Toyota Camry
Premium midsize cars (22) – Acura TLX and Lexus ES
Large cars (7) – Chevrolet Impala and Buick LaCrosse
Premium large cars (12) – Genesis G90
Sporty/performance cars (17) – Fiat 124 Spider, Ford Mustang, Volkswagen GTI and Mazda MX-5
Premium sporty/performance cars (17) – Chevrolet Corvette
Subcompact crossover/SUVs (14) – Honda HR-V, Mazda CX-3 and Nissan Rogue Sport
Compact crossover/SUVs (18) – Mazda CX-5 and Nissan Rogue
Premium compact crossover/SUVs (21) – Acura RDX and Lincoln MKC
Midsize crossover/SUVs (17) – Toyota Highlander and Honda Pilot
Premium midsize crossover/SUVs (15) – Volvo XC90 and Acura MDX
Large SUVs (7) – Dodge Durango
Premium large SUVs (8) – Cadillac Escalade and Audi A7
Compact pickup trucks (5) – Honda Ridgeline, GMC Canyon and Chevrolet Colorado
Large pickup trucks (6) – Ram 1500, GMC Sierra and Chevrolet Silverado
Minivans (6) – Chrysler Pacifica
Electric vehicles (14) – Chevrolet Volt and Chevrolet Bolt EV
Previous years' Consumer Guide Automotive Best Buys (2014-17) may be prospective used-car candidates.