About one-third of vehicle shoppers purchase new models.
If you will be among those seeking the "Best Buys" for 2019, you probably are going to do a lot of homework beforehand to make sure you get the vehicle that best fits your lifestyle.
There are all sorts of best-of-2019 lists online heading into the new year.
In that new-year spirit, Consumer Guide Automotive named its "Best Buys" in 21 categories from subcompact cars and crossovers to premium large SUVs, minivans and large pickup trucks.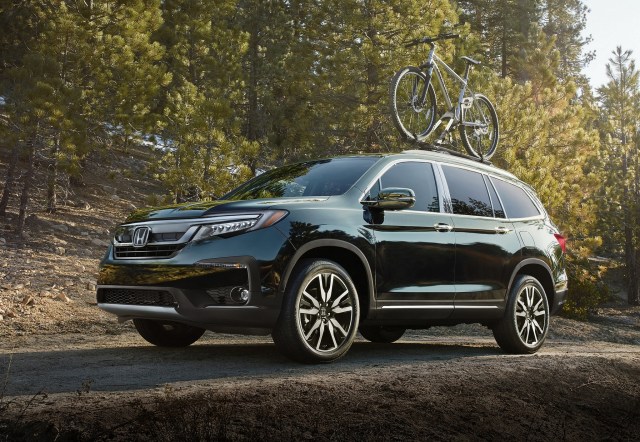 The result is a list of 42 vehicles – including 33 repeat winners from 2018 – identified from among more than 280 candidate models based on Consumer Guide's "rigorous and comprehensive evaluation process to identify the vehicles worthy of serious consideration by consumers."
Criteria such as price, features, performance, accommodations, fuel economy, reliability records and resale value are used to assess each vehicle, according to Consumer Guide.
RELATED
"Best Buy Archives" if you're shopping for a used vehicle from 2014-17.
Overall, the Guide named winners in nine car categories, six crossover/SUV categories, two large-SUV categories and two truck categories, along with the top minivan and electric vehicles, with one category winner – the Chrysler Pacifica – also named 2019 Family Vehicle.
Following are the 2019 winners, by category, including the number of candidates in each category, with repeat best buys designated with an asterisk (*):
Cars
Subcompact (11) – Hyundai Accent*, Kia Rio* and Kia Soul*
Compact (20) – Honda Civic*, Honda Insight and Volkswagen Golf Sportwagen*
Premium compact (14) – Audi A4*
Midsize (13) – Honda Accord* and Toyota Camry*
Premium midsize (25) – Acura TLX* and Lexus ES*
Large (7) – Buick LaCrosse* and Toyota Avalon
Premium large (12) – Cadillac CT6
Sporty/performance (17) – Ford Mustang*, Mazda MX-5 Miata* and Volkswagen Golf GTI*
Premium sporty/performance (20) – Chevrolet Corvette
Crossover/SUVs
Subcompact (14) – Honda HR-V*, Hyundai Kona and Nissan Rogue Sport*
Premium subcompact (9) – Volvo XC40
Compact (18) – Mazda CX-5* and Nissan Rogue*
Premium compact (18) – Acura RDX* and Infiniti QX50
Midsize (14) – Toyota Highlander* and Honda Pilot*
Premium midsize (17) – Volvo XC90* and Acura MDX*
Large SUVs
Large (7) – Ford Expedition
Premium (10) – Cadillac Escalade*, Audi A7* and Lincoln Navigator
Pickup Trucks
Compact (6) – Honda Ridgeline*, GMC Canyon* and Chevrolet Colorado*
Large (6) – Ram 1500*, GMC Sierra* and Chevrolet Silverado*
Minivans
Minivans (6) – Chrysler Pacifica*
Electric Vehicles
EVs (19) – Chevrolet Bolt EV*
The Premium Subcompact Crossover class was added this year because of the growing number of vehicles positioned in size and price below high-end compact crossovers, according to Consumer Guide.
"Luxury-oriented small crossovers have become very popular, and premium brands are adding models in this category at an impressive pace. Our new class will help consumers in this segment make a better purchase decision," said Publisher Tom Appel, who led the editors' selection process for this year's list.