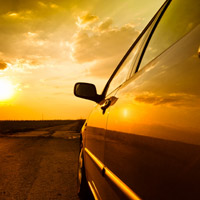 I always thought of the gadgets in Iron Man's suit (check out the latest armor in Iron Man 3) as being something like a more comprehensive version of those in Batman's utility belt…not entirely necessary, but undeniably cool. Batman didn't leave home without his Shark Repellant Spray…his Shark Repellant Spray. In any case, the message is clear: be prepared.
Superhero or not, being ready for the unexpected is always a good idea — especially when it comes to being in a vehicle out on the road.
Here are some things you need to put together an emergency kit so you're prepared for the unexpected:
Phone charging cord – It sounds obvious, but don't forget that your phone can connect you to everyone who can help you, so make sure you're able to keep it charged.
Roadside assistance service – An auto club membership, or a roadside assistance agreement with your auto insurance provider, can have you out of trouble and back on the road in no time, but if you don't have it before trouble strikes, you can expect to pay much more for your first rescue.
Tire gauge, jack, lug wrench, and a properly inflated spare tire – Tire and battery failures are the #1 reason that cars break down. For tire problems, make sure you have these three basic tools, and that you know how to use them. Practice on level pavement, like your driveway or a parking lot to see if your tools or skills need some adjustments.
Foam tire sealant – If your tire is flat because of a small puncture, one of these cans of compressed air and sealant will both temporarily seal the air leak and fill the tire with enough air to safely move the vehicle a short distance.
Flashlight – Performing maintenance can get you out of a jam, but if you're in the dark, a flashlight can mean the difference between being stuck and getting back on the road.
Warning light, hazard pylons or road flares – If your car is stopped in an area with continual traffic, it's a good idea to visually let other drivers and anyone who might help you know your car is there.
Pen and pad of paper – Keep these analog tools in case you need to leave a note on a windshield or if you need to take insurance information after an accident.
OPTIONAL: a smart phone – Modern smart phones are equipped with cameras, mapping software, Web browsers and several different ways to get in touch with people who might help you. If you've been in an accident, you can use your smart phone to take pictures, take notes, send information and more.
By Sonny Bynum