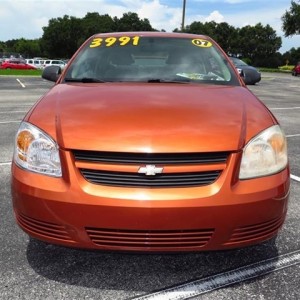 General Motors new-vehicle sales have suffered little from the automaker's recent recalls of nearly 30 million cars, SUVs and trucks, according to industry analysts.
But a study by iSeeCars.com suggests GM used vehicles are taking the hit, especially recalled models.
"The General Motors cars recalled for the faulty ignition switch in February have experienced a price drop that is more than double the average across all similar cars," reported iSeeCars.
And the tide seems to be building based on information posted at the search engine and website.
The price of all the recalled GM vehicles dropped an average 14 percent from March through June 2014, compared to the same period of 2013, according to iSeeCars. But the monthly average went from minus-12.5 percent in March to minus-13.9 percent April and May to minus-15.5 percent in June.
The average for GM vehicles not recalled was about minus-7 percent, compared to the average for all similar cars of minus-6.7 percent over the same period, the web site reported.
"We surmise that the recalls are playing a role in motivating sellers to sell their used cars at a lower price point than they otherwise would," said Phong Ly, iSeeCars.com CEO.
General Motors has recalled 2.6 million older-model small cars due to faulty ignition switches, but that's only about 10 percent of the nearly 29 million vehicles globally and about 25.5 million in the United States the automaker has recalled in 60 campaigns so far this year.
GM is on pace through June to sell nearly three million new vehicles in the U.S. in 2014. Annual used-vehicle sales generally outpace sales of new vehicles by a margin of about 2.5 to 1.
Vehicles hit hardest on resale values are all seven years old or older, according to iSeeCars.
Those models are the 2005-07 Chevrolet Cobalt and 2007 Pontiac G5 (both 13.7 percent less than last year), the 2003-07 Saturn Ion (13.6 percent less), 2006-07 Chevrolet HHR (11.5 percent), 2006-07 Saturn Sky (10.6 percent) and 2006-07 Pontiac Solstice (9.7 percent).
To generate its conclusions, iSeeCars.com analyzed more than 11 million used cars for sale by dealers.
Visit the Santander blog regularly for more news on auto-, auto-finance and SCUSA-related topics.