Thirty-six thousand students and counting. That's the number of 18- to 29-year-old young adults the nonprofit Year Up has helped realize their potential through tuition-free training and higher education.
Founded in Boston in 2000, Year Up (https://www.yearup.org/) is driven by a mission to 'close the Opportunity Divide by ensuring that young adults gain the skills, experiences, and support that will empower them to reach their potential through careers and higher education.'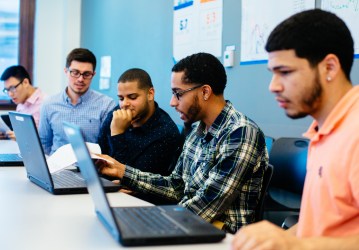 Over the past two decades, this mission has led to the expansion into 30+ campuses across the United States in locations such as New York, New Jersey, Rhode Island, Washington D.C., Charlotte, Atlanta, Dallas, Arizona, Chicago, Seattle and Pittsburgh. "We're continuing to grow and look at new markets," says Fred Rosario, Director, Service Delivery for Year Up.
In addition to expanding its footprint, Year Up is also continuously working on its programs to offer students the most opportunity to grow their skills and knowledge. "We've been updating our structure, and the pandemic forced us to look at how we operate and give a hybrid approach … preparing for what the hybrid workforce of today is doing," Rosario says. "Engagement looks different now and how you are building a relationship with a person looks different."
At their locations, Year Up provides tuition-free job training in skills ranging from IT and software development to business operations, sales and customer support. They also partner with colleges and universities, so participants in Year Up can earn college credit in a variety of different areas.
Over the past four years, the Santander Consumer USA Foundation has been privileged to work with Year Up and support their efforts through volunteer opportunities and monetary donations. Santander leaders and employees in Texas, Arizona and Florida, have participated in virtual mock interviews with Year Up students, assisted in résumé reviews and had guest-speaking engagements.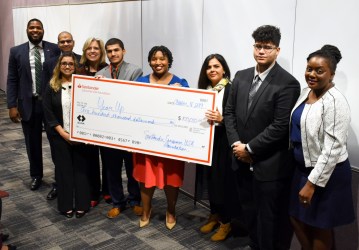 Supporting Year Up's efforts links with the Foundation's pillar of Educational Mobility – Developing talent and preparing students for the workforce.
Through the Santander Consumer Foundation, Year Up has received charitable grants to fund needed resources over the years in amounts of $350,000 in 2022; $300,000 in 2021; $75,000 in 2020 and $200,000 in 2019.
According to Rosario, monies like the contributions from Santander go toward "program structure, learning and development training and educational stipends in partnership with institutions such as St. Petersburg College, so students can earn college credits. What those dollars and gifts can do is support the students effectively throughout their experience."
"With Santander's support, Year Up has been able to further our mission of closing the Opportunity Divide in communities such as, Dallas/Fort Worth, Tampa, Mesa and many more. Santander's partnership allows us to provide much-needed support to our students throughout their Year Up journey," says Dr. Jasmine Collier, Senior Director of Institutional Giving.
"We're excited for 2023 and beyond as Year Up works to increase access to economic mobility for all young adults. We are continuing to test new program models to meet our students where they are and ensure a future of Opportunity for All," Collier adds.
About Year Up Inc.
Year Up is a national 501(c)3 workforce development organization committed to ensuring equitable access to economic opportunity, education and justice for all young adults — no matter their background, income or ZIP code. Year Up utilizes a high-expectations, high-support model where students learn in-demand technical and professional skills and apply them during a corporate internship. Year Up has served more than 36,000 young adults across 19 geographies since its founding in 2000 and has been voted one of the "Best Non-Profits to Work For" by The NonProfit Times. To learn more, visit http://www.yearup.org, and follow us on LinkedIn, Facebook, Instagram, Twitter and TikTok.