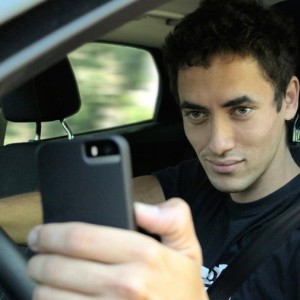 Taking a photo of yourself, a "selfie," while driving is crazy, right?
The problem is many young drivers especially are taking selfies even though they know it's dangerous.
OK, so this "driving selfies" thing isn't new, but it still is a phenomenon, and every once in a while new information surfaces that can get you thinking about it – and worrying – all over again.
In the case of driving selfies, there's the recent report about a survey for Ford comprising interviews with 7,000 young Europeans, which revealed that "one in every four drivers under the age of 25 has taken a selfie while driving" and that nearly half have taken photos with their phones while driving.
"Despite a high level of young drivers taking 'selfies' behind the wheel," according to independent.ie website, "almost all surveyed said they believed it was a dangerous act."
If the European percentages held, they would equate to about 7 million U.S. drivers under age 25 taking driving selfies and about 14 million having taken a photo of some sort while driving.
Research has shown that taking a selfie distracts a driver for about 14 seconds, independent.ie reported.
About 10 months ago, the Huffington Post reported in an article "People who take selfies on Instagram while driving are the worst people" that the social networking site had more than three million posts tagged with "#driving," and another 60,000-plus with various related tags.
While the Huffington Post's Instagram results appear to be greatly overstated, similar tags such as #drivingselfie, #drivinghome and #drivingtowork generate about 150,000 results.
And the practice isn't limited to Instagram – driving selfies also appear on Twitter microblogging site.
As if we needed to be reminded of the dangers involved, one Twitter user recently tweeted a driving selfie in which she also boasted: "One of my weird skills, doing my makeup while driving. #sorrynotsorry," and MLB Network's Kevin Millar, a former major league baseball player and now talk-show host tweeted, "Sneaking out for golf before all wakes up #DrivingSelfie."
Even Facebook generated results for #drivingselfie: "#Content but not #complacent," one poster writes. "#lifeisgood #free #happy #humpday #smilingfromwithin #butfirstletmetakeaselfie #drivingselfie."
But selfies posted on social media, as disturbing as they are, may understate the problem.
"The only thing you should be doing while driving is focusing on the road ahead," said Doug Shupe of AAA Texas/New Mexico. "Put the camera down and wait until you arrive at a safe destination. Don't let a driving selfie or video be the last photo you ever take."
Visit the Santander blog regularly for more news on auto-, auto-finance and SCUSA-related topics.