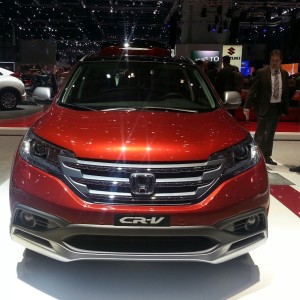 Honda Motors Co. has been named Best Overall Brand (non-luxury) for the second consecutive year in the Kelley Blue Book 2014 Brand Image Awards, which are based on preferences of new-car shoppers visiting the KBB website.
Mercedes-Benz was named the Overall winner among luxury brands, according to a KBB study.
Strong consumer perception of the Accord, Civic, CR-V and Odyssey helped drive Honda's success in earning the top honor among all automakers and Most Trusted Brand honors. 
Other KBB's non-luxury winners were Kia, Best Value Brand; GMC, Most Refined Brand; MINI, Best Performance Brand, and Chevrolet, Best Car Styling Brand. Among luxury brands, Lexus was named Most Trusted; Buick, Best Value; Mercedes-Benz, Most Refined; Porsche, Most Trusted, and Jaguar, Best Car Styling Brand. Ford was named Best Overall Truck Brand.
Study factors included affordability, "cool" factor, driving comfort, driving performance, durability/reliability, exterior styling, fuel efficiency, interior layout, prestige/sophistication, reputation, ruggedness and safety (listed in alphabetical order).
"Considering Honda has also won the award for Most Trusted Brand among non-luxury shoppers three years in a row, this [overall] win isn't a huge surprise," KBB said in reporting the results on its website. "We have long respected Honda's cars, SUVs and minivans for their reliability and refinement, and it turns out the new-car shoppers at Kelley Blue Book feel the same way."
"The well-rounded Mercedes-Benz stable includes models for well-heeled travelers who enjoy a comfortable ride, vehicles that provide the adrenaline-infused performance of the AMG treatment, and prices that range from entry-level luxury to opulence worthy of a CEO," said KBB on its website. "Its cars continue to impress, with eye-catching styling and elegant, technology-filled interiors, and have always stayed true to the company's reputation for reliability and quality."
The Brand Image Awards are based on Kelley Blue Book's Brand Watch study, which identifies what shoppers who visit KBB.com "perceive to be the most outstanding automakers." The study, which is conducted online, taps into more than 12,000 new-vehicle shoppers annually who do their research at KBB.com, which attracts about 11 million unique visitors a month.
"Representing the combined wisdom of the American car-buying public, the Kelley Blue Book Brand Image Awards recognize automakers' outstanding achievements in creating and maintaining brand attributes that engender enthusiasm among new-vehicle buyers," KBB said on its website.
More details on the study results, including Kia's emergence as the Top Value Brand are available at newspressusa.com.