There are Top Safety Picks.
And then there are Top Safety Pick+ awardees, according to test results from the Insurance Institute of Highway Safety (IIHS).
AND THEN, there are Top Safety Pick+ awardees with really good headlights.
Only seven vehicles made that final cut from the IIHS: Chevrolet Volt small car, Honda Ridgeline pickup, Hyundai Elantra small car, Hyundai Santa Fe midsize SUV, Subaru Legacy midsize car, Toyota Prius v midsize car and Volvo XC60 midsize luxury SUV.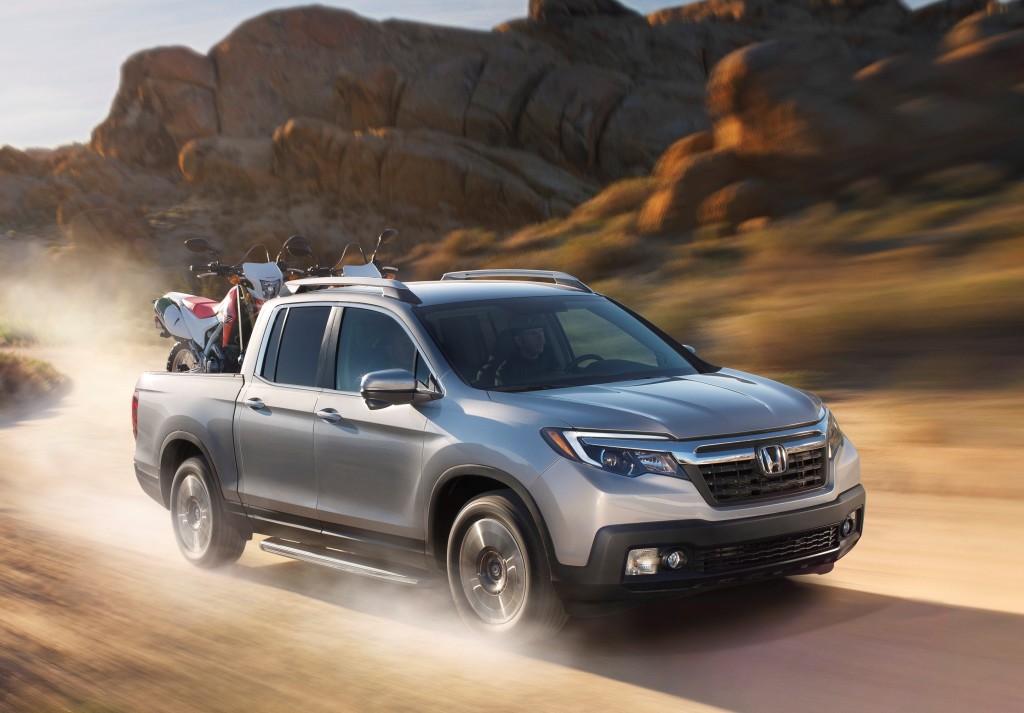 Another 31 vehicles received Top Safety Pick+ awards, which required an acceptable headlight rating in addition to good ratings on six other crash and crash-prevention tests.
And 44 vehicles received Top Safety Pick awards from the insurance organization.
All IIHS award-winning vehicles had to receive good ratings in the small overlap front, moderate overlap front, side, roof strength and head-restraint tests, as well as an advanced or superior rating for front crash prevention with standard or optional autobrake.
The IIHS started the Top Safety Pick awards program in the 2006 model year to help consumers see the light on vehicles with the best safety performance without having to sort through a lot of ratings information. The Top Safety Pick+ award was introduced in the 2013 model year.
"The field of contenders is smaller this year because so few vehicles have headlights that do their job well, but it's not as small as we expected when we decided to raise the bar for the awards," said Adrian Lund, IIHS president. "Manufacturers are focusing on improving this basic safety equipment, and we're confident that the winners' list will grow as the year progresses."
Other Top Safety Pick+ award winners by category are:
SMALL CARS
Mazda 3 4-door sedan and 4-door hatchback, and Toyota Corolla and Prius
MIDSIZE CARS
Honda Accord 4-door, Mazda 6, Nissan Altima, Nissan Maxima, Subaru Outback, Toyota Camry and Volkswagen Jetta
MIDSIZE LUXURY CARS
Audi A4, Lexus ES 350, Volvo S60 and Volvo V60
LARGE LUXURY CARS
Genesis G80, Genesis G90 and Lexus RC
SMALL SUVs
Mazda CX-3, Mitsubishi Outlander, Nissan Rogue, Subaru Forester and Toyota RAV 4
MIDSIZE SUV
Honda Pilot
MIDSIZE LUXURY SUVs
Acura MDX, Acura RDX, Audi Q5, Buick Envision, Lexus NX, Lexus RX and Mercedes-Benz GLE-Class
MINIVAN
Chrysler Pacifica
IIHS launched headlight ratings after finding that government standards based on laboratory tests allow for "huge variation" in the amount of illumination on the road.
"Nighttime visibility is critical to highway safety because about half of traffic deaths occur in the dark or at dawn or dusk," the insurance organization reported.
In the evaluations, engineers measure how far light is projected by low beams and high beams as a vehicle travels straight and on curves, while low-beam glare for oncoming drivers also is measured. Vehicles equipped with high-beam assist, which automatically switches between high beams and low beams depending on the presence of other vehicles, can get extra credit.
"Evaluations show that a vehicle's price tag doesn't correspond to the quality of headlights," IIHS said. "More modern lighting types, including high-intensity discharge (HID) and LED lamps, and curve-adaptive systems, which swivel in the direction of steering, also are no guarantee of good performance."
A full list of awardees, including the 44 Top Safety Picks, is available on the IIHS website. Details on specific test ratings by vehicle also are available on the IIHS site.
The IIHS updates its ratings throughout the year, so check back regularly if you're shopping for a new vehicle.