SUVs are big on safety, and small SUVs apparently are the biggest of all.
SUVs overall represented more than one-third of this year's 61 Tops Safety Pick award winners selected by the Insurance Institute for Highway Safety (IIHS) and the Highway Loss Data Institute.
Nine of the 21 selected are small vehicles, while five are midsize and seven are luxury size SUVs.
Combined, the SUV group comprises 15 Top Safety Pick+ winners, the insurance group's highest recognition based on annual crash tests, and another six Top Safety Pick winners.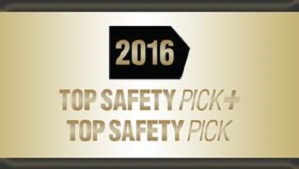 A total of 17 manufacturers were represented in the final IIHS crash-test rankings with four manufacturers – Honda, Nissan, Acura (a Honda brand) and Volvo – capturing two awards each.
Among small SUVs, the Fiat 500X, Honda CR-V, Hyundai Tucson, Mazda CX-5, Mitsubishi Outlander, Subaru Forester and Toyota RAV 4 were all TSP+ winners, while the Buick Encore and Nissan Rogue received TSP awards. The Honda Pilot and Nissan Murano were rated TSP+ among midsize SUVs, and the Chevrolet Equinox, GMC Terrain and Kia Sorento were rated TSP.
In the luxury SUV category, six of seven received TSP+ recognition – Acura MDX, Acura RDX, Audi Q5, Lexus NX, Volvo XC60 and Volvo XC90 – while the Mercedes GLE-Class was named a TSP.
The flip side of the SUVs were the pickup results, with the IIHS recognizing just one, the Ford F-150.
The IIHS rates vehicles good, acceptable, marginal or poor based on performance in five tests, moderate front overlap, small front overlap, side, roof strength and head restraints. The organization also assigns vehicles with front crash prevention systems ratings of basic, advanced or superior.
The Top Safety Pick awards, which started in 2006, are intended to help consumers identify the top safety performers "without having to sort through a lot of individual test results." The IIHS works in conjunction with the Highway Loss Data Institute, a nonprofit research organization that publishes insurance loss statistics on most car, SUV and truck models on U.S. roads.
Last year, 71 models earned the IIHS safety pick awards, with nearly half receiving TSP+ recognition.
RELATED:
A dozen small vehicles earn 2016 Top Safety Pick Awards
Crash tests reveal Top Safety Picks even Goldilocks would appreciate
More large cars receive Top Safety Pick ratings than last year