You've heard of Oprah Winfrey, right?
Hillary Clinton, Michelle Obama and Beyonce Knowles? Check, check and double-check.
They are some of the 100 most powerful women in the world in 2015, ranging from Clinton at No. 2 to Obama at No. 10, Winfrey at No. 12, and Beyonce at No. 21, according to Forbes magazine.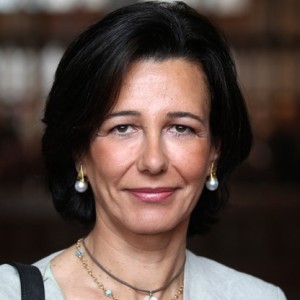 Among them is Ana Patricia Botín, chairman of Santander Group, who Forbes ranked 18th in the world overall as well as the most-powerful woman in finance. The Spanish banking giant is the parent company of Dallas-based Santander Consumer USA Inc. and Boston-based Santander Bank N.A.
Botín is a Top 20 newcomer, less than a year after succeeding her father as Santander chair, and one of only 12 Europeans, including German Chancellor Angela Merkel at No. 1. Botín, the first woman to head a major European lender, previously ranked in the Top 100 by Forbes, including 45th in 2009, when she was executive chair at Santander's retail banking arm, Banesto, and 99th in 2005.
Calling its list the "definitive ranking of the most powerful women in the world," Forbes refers to those named as "extraordinary entrepreneurs and visionary CEOs, celebrity role models and billionaire activists, foremost heads of state and pioneer philanthropists who are transforming the world."
Botín also appeared at No. 1 on last year's Fortune magazine list of "The Most Powerful Women of Europe, the Middle East and Africa," after taking the reins at Santander, and No. 41 on the magazine's list of "The 50 Most Powerful Women in Business," when she still was CEO of Santander U.K. The BBC named Botín the third most powerful woman in the United Kingdom (Great Britain) in 2013 – trailing only Queen Elizabeth II and British Home Secretary Theresa May.
Power rankings aside, Botín outlined her philosophy to a March meeting of Santander executives:
"Our group's aim is to be the best retail and commercial bank that earns the lasting loyalty of our people, customers, shareholders and communities. Everything we do, wherever we operate, must be simple, personal and fair. These three words define what our bank should be."
"The world is changing faster than ever. We are in the middle of a revolution, driven by digital technology. Customers have more power and choice than ever before … So if Santander is to continue to grow, we need to change. We need to be one team in which each of us understands the purpose of the bank, works toward a common aim, and acts and behaves in the same way."
They are powerful words from one of the world's most powerful women and business leaders.
Not even Oprah could have said it better.