Santander Consumer USA (SC) is taking the spread of Coronavirus (COVID-19) seriously as it affects our customers in many communities.
We are committed to doing everything we can to help our customers who might be affected by Coronavirus, because we understand that hardships may arise.
SC's customer service team is standing by to review accounts of customers who need assistance and to explore potential options to help during this time. We have programs in place to help customers experiencing difficulty due to the impact of the virus.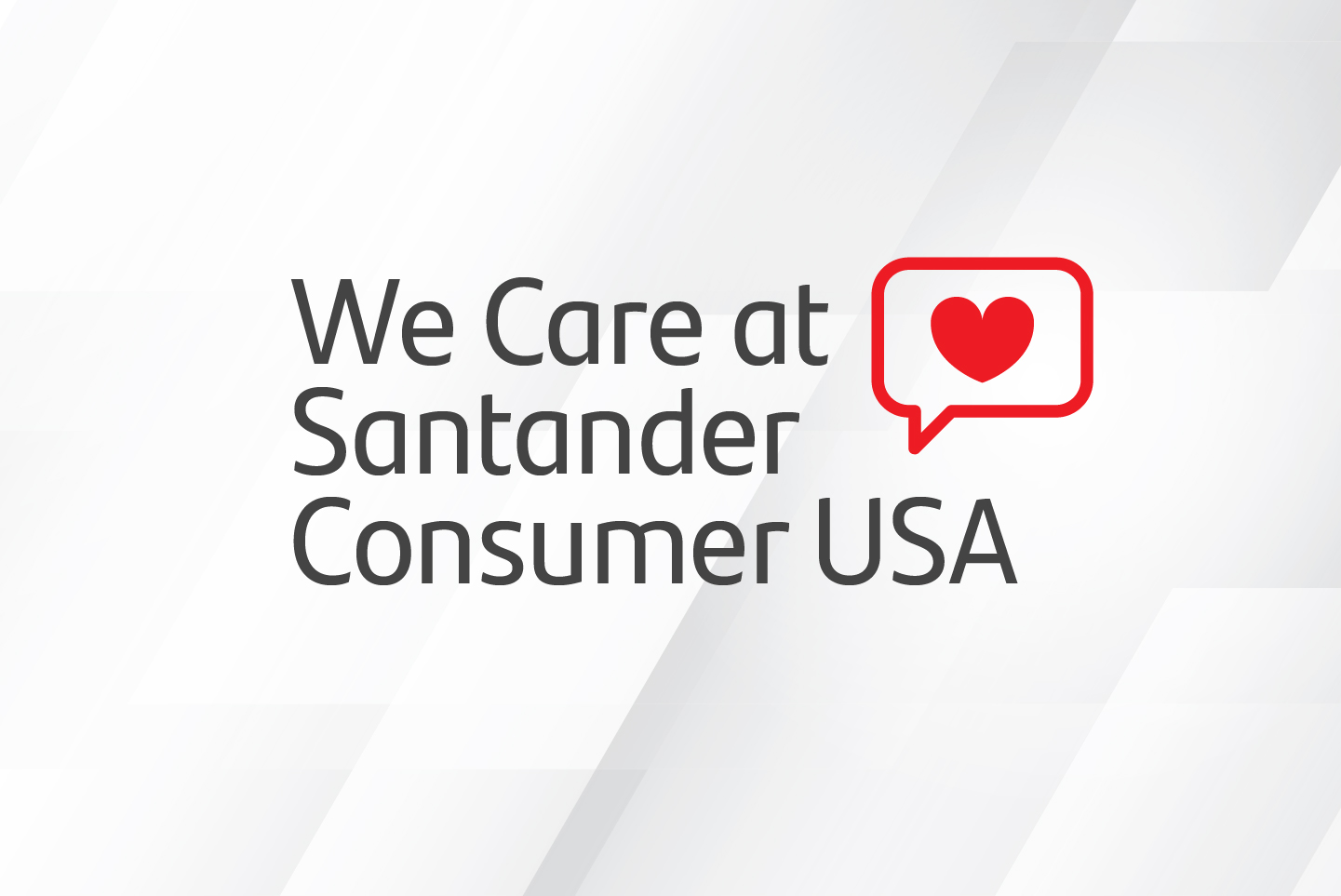 Here is assistance customers can expect:
Retail customers may qualify for an extension, which allows you to delay payments by extending the term of your loan and moving any deferred payments to the end of your loan.
Requesting assistance online
To request assistance online through MyAccount, please follow these steps:
Click on the "Inbox" button on the top of your toolbar.
Start a "NEW" message by clicking on the blue message icon.
You will be prompted to fill out a form.
Your Name – Please type your full name
Please Select The Account You Are Contacting Us About – Select the appropriate account number if you have multiple accounts
Your email address – Enter your personal email address. You will receive an approval or denial to this email address within 5-7 business days.
Subject – Choose "COVID-19: Extension Request" or "Natural Disaster: Extension Request" from the drop down
Message – Reason for Extension: How have you been impacted?
Once you submit your request, you will receive a message in your MyAccount Inbox within 5-7 business days. Please log back into your MyAccount during this time to check for a status update.
If you receive an agreement for e-signature, please review it, sign and return the documentation or the extension will be declined. Once you complete the eSign, do not fax or mail in the agreement.
How to make a payment
Please be aware that we no longer are able to accept payments via agent, so please use one of our self-service options:
Make an ACH or debit card payment on our website, SantanderConsumerUSA.com or through our interactive voice system. Additional fees may apply.*
Enroll in our Auto Pay program in which your monthly payment will be electronically drafted directly from your checking/savings account. Complete enrollment by logging in at SantanderConsumerUSA.com.
Mail your payment to Santander Consumer USA, P.O. Box 660633, Dallas, TX 75266
For additional payment options, visit
com/support/payments. Additional fees may apply.*
* A third-party payment processing company may charge a fee to process your payment
Other self-service options are available through MyAccount, where you can manage your account using online tools – live chat, make a payment, get your payment history and due dates, obtain payoff information or update your account information.
For other questions, please look for answers in the FAQ section of our website. Many of your questions will be answered there, and you will help keep phone lines free and wait times shorter for callers with the most urgent needs.
If you still need help or have questions regarding your Santander Consumer USA account resulting from the Coronavirus outbreak, you can reach us by phone at 888-222-4227.
Stay protected from scams!
Cyber criminals already have started to distribute Coronavirus phishing emails and scam calls that include decoy health advisories, Coronavirus cures, stimulus payments and health supplement in attempt to steal money and personal information. We suggest you follow these cybersecurity guidelines, as they may help keep your information secure:
Keep your software up to date on all your devices.
Regularly check your privacy settings.
Open or respond only to emails from known email addresses.
Keep your passwords safe.
Reminders on staying healthy
Meanwhile, it's important we all take precautions to prevent the spread of germs during this outbreak. The CDC recommends that everyone:
Wash your hands often with soap and water for at least 20 seconds, especially after going to the bathroom; before eating; and after blowing your nose, coughing, or sneezing.
Cover your cough or sneeze with a tissue, then throw the tissue in the trash.
Avoid touching your eyes, nose, and mouth with unwashed hands.
If soap and water are not readily available, use an alcohol-based hand sanitizer with at least 60% alcohol. Always wash hands with soap and water if hands are visibly dirty.
Avoid close contact with people who are sick.
Stay home when you are sick.
Clean and disinfect frequently touched objects and surfaces using a regular household cleaning spray or wipe.
Help from the CDC
Visit the CDC website for more information on Coronavirus, including what you should know about the virus, prevention and symptoms, as well as situation updates in the U.S. and worldwide.
Our leadership team continues to monitor the situation closely and is following guidance from relevant authorities, including the Centers for Disease Control and Prevention (CDC), the World Health Organization (WHO) and various state and local governments.