Ram is going for the record.
In a Texas-sized event in Arlington, the Ram Truck Round-Up, the truck maker will attempt to capture the title of largest parade of pickup trucks recognized by Guinness World Records.
The parade is providing 500 slots for the event April 18 at AT&T Stadium, home of the Dallas Cowboys. The Ram Truck Round-Up will be honoring the 50th anniversary of the Academy of Country Music Awards, which are scheduled to be held the following night at the stadium.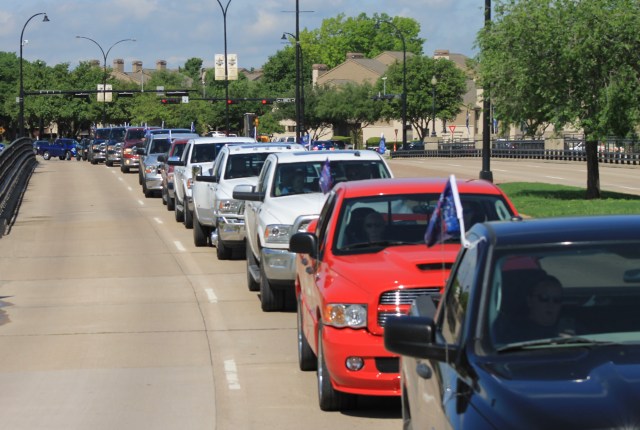 "Everything is always bigger in Texas, and Ram, America's fastest-growing truck brand, is making sure this year's ACM Awards celebration in Dallas will prove this once again," said Robert Hegbloom, president and chief executive officer, Ram Truck Brand, FCA-North America.
He called the round-up a "once-in-a-lifetime opportunity for our loyal truck owners to be part of a special record-breaking rally and pickup parade in the largest truck market in the country."
The Texas round-up is open exclusively to Ram truck owners and a guest, with entertainment including a car-crushing performance by the Raminator monster truck – fresh from competition with Rammunition at the Lucas Oil Monster Truck Nationals in Columbus, OH. Also appearing at the roundup will be Mark Hall, nine-time Monster Truck Racing Association Driver of the Year.
The parade will be in and around AT&T Stadium and may be viewed by the public, a spokeswoman said.
Ram is the official truck of the ACM Awards for the sixth consecutive year, but you can't just show up to participate in the parade. You must register online at Ramroundup.com to secure a spot for the world record attempt. The initial cost is $50 per ticket (maximum two per truck) with a completed/submitted form, but the fee will be refunded when participants check in at the event.
"It'll be a rally for the record books," says the official Ramroundup website, referring to the record-breaking attempt. "Secure your place in history."
A minute-by-minute countdown clock on the website adds a bit of urgency to the invitation.
The Ram event is part of the sold-out, two-day ACM Party for a Cause Festival and fundraiser scheduled in and around Globe Life Park, home of the Texas Rangers baseball team.