Awards are usually good to spark debate.
But in the case of the Kelley Blue Book 2018 Five-Year Cost to Own Awards, one winner, a subcompact, is more likely to spark admiration.
The Chevrolet Spark has won the KBB cost-to-own subcompact category for the fourth time in five years – beating out the Kia Rio and Hyundai Accent among 2018 models. It also finished second to the Nissan Versa in 2016 and the Scion iQ in 2013.
The Spark was one of 22 category and two brand winners named by KBB, a well-known consumer research and shopping website.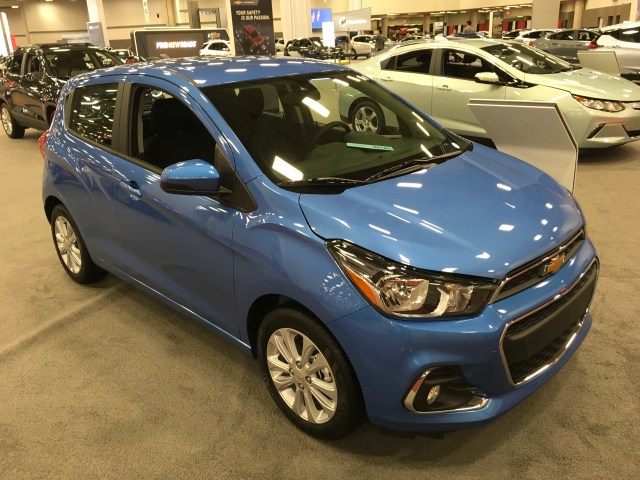 Its five-year cost to own or gap between the amount paid and what a Spark is worth in five years?
About $29,200, which includes depreciation, fuel, insurance, financing, fees, maintenance and repairs, as of December 31, 2017, around $600 less than the Rio and $1,600 less than the Accent.
"The 2018 Chevrolet Spark may have a small footprint, but it looms large when assessing its five-year cost to own," said KBB. "This low cost of ownership is for a car that has good looks, competent road manners and a surprisingly high level of tech features not usually found in cars this affordable."
But if a subcompact or a new car isn't the perfect fit, there are plenty of alternatives – and that doesn't just mean the 2018 winners – KBB awards stretch back to 2012.
Besides 2018 overall brand winners, Hyundai (mainstream) and Acura (luxury), the first-, second- and third-place finishers by category are:
Cars
Compact – Toyota Corolla iM, Hyundai Elantra, Kia Soul
Midsize – Hyundai Sonata, Kia Optima, Toyota Camry
Full-size – Chevrolet Impala, Toyota Avalon, Dodge Charger
Sporty compact – Honda Civic Si, Ford Focus ST, MINI Hardtop S/JCW
Sports – Chevrolet Camaro, Dodge Challenger, Audi S3
High-performance – Dodge Challenger SRT, Dodge Charger SRT, Ford Mustang Shelby GT350
Entry-level luxury – Acura ILX, Buick Regal Sportback, Mercedes-Benz CLA
Luxury – Lexus GS, Cadillac XTS, Audi A6
High-end luxury – Porsche Panamera, Lexus LC, Audi A8
Hybrid/alternative energy – Toyota Prius c, Kia Niro, Toyota Prius
Electric vehicle – Nissan LEAF, Chevrolet Bolt EV, BMW i3
SUV/crossovers
Subcompact – Honda HR-V, Mazda CX-3, Toyota C-HR
Compact – Subaru Crosstrek, Jeep Wrangler, Kia Sportage
Midsize – Jeep Wrangler Unlimited, Mitsubishi Outlander, Hyundai Santa Fe Sport
Full-size – Chevrolet Tahoe, Ford Expedition, Chevrolet Suburban
Luxury compact – Buick Encore, Infiniti QX30, Lexus NX
Luxury midsize – Infiniti QX60, Acura MDX, Lexus RX
Luxury full-size – Infiniti QX80, Lincoln Navigator, Toyota Land Cruiser
Pickup trucks
Midsize – Toyota Tacoma, Chevrolet Colorado, GMC Canyon
Full-size – Ford F150, Chevrolet Silverado HD, Toyota Tundra
Minivans
Honda Odyssey, Toyota Sienna, Kia Sedona
Here's where to find more on the 2018 awards, as well as 2017, 2016, 2015, 2014, 2013 and 2012.