It may not get the buzz of New York, Chicago or Los Angeles auto shows.
But if you're a car lover – or an excited new car shopper – chances are that your heart still will beat a little faster approaching the entrance of the 2015 DFW Auto Show in Dallas.
And then walk through the doors to find hundreds of gleaming new cars, trucks and SUVs from 40 major manufacturers spread across more than 650,000 square feet of exhibit space. It's a four-wheeled paradise, really, for anyone interested in the latest vehicle design/technology and hottest cars.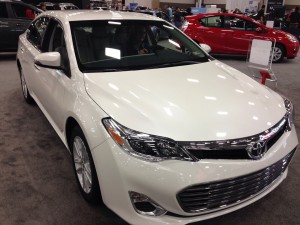 The show, which attracted more than 400,000 people last year, is scheduled March 25-29 at the Kay Bailey Hutchison Convention Center (formerly the Dallas Convention Center).
"The show has grown to a size that no one could have imagined back in the '80s and truly has become one of the largest five-day shows in the country," said Don Herring Jr., auto show chairman.
The DFW Auto Show also is where many North Texas families take their searches for new vehicles. Last year's survey showed that 17 percent of attendees were shopping for a new vehicle, 61 percent said attending the show either strongly or somewhat influenced their decision on which vehicle to buy, and 14 percent said attending changed their mind on the vehicle they would purchase.
RELATED: Why you should attend an auto show if you're shopping for a new vehicle
ALSO RELATED: What you need to know to make the most of your auto show adventure
This year's show will feature:
An "impressive" lineup of all new, redesigned or hottest cars and other vehicles for 2015.
A high-end area where luxury automakers will show off their $100,000-plus vehicles, including Aston Martin, Bentley, McLaren, Maserati and Rolls Royce.
The indoor RAM Trucks Ride & Drive, where professional drivers will take participants through an interactive adventure zone in a 2015 RAM 1500.
The outdoor Ride & Drive, featuring more than 60 vehicles from more than a dozen brands.
About 100 classic vehicles from a half-dozen clubs and the Pack Automotive Museum.
"Over the years, different manufacturers have come and gone, many concept cars have wowed visitors, but the excitement and atmosphere of the show has always been the best part," Herring said. "When 400,000 people come to see the latest models at a show that includes almost every manufacturer and takes up almost all of the convention center, there is nothing else like it."
The auto show is produced by the Dallas Fort Worth Metropolitan New Car Dealers Association (MNCDA), which comprises about 200 franchised new car dealers in the Dallas-Fort Worth region, representing more than $10 billion in new and used car sales annually.
The MNCDA also produces the DFW Auto Show at the Fort Worth Convention Center in November.