If you're looking for clarity on your next vehicle purchase, one automotive research firm hopes to provide that.
And if it's a good fit you're seeking, they may have you covered there, too.
In fact, the Honda Clarity and Honda Fit are two of 25 cars, SUVs and trucks winning AutoPacific 2019 Ideal Vehicle Awards. Overall, the awards aim to provide consumers with insight – OK, we couldn't resist the reference to the award-winning Honda vehicle of that name – based on the experiences of 50,000 owners of vehicles purchased new from September through December 2018.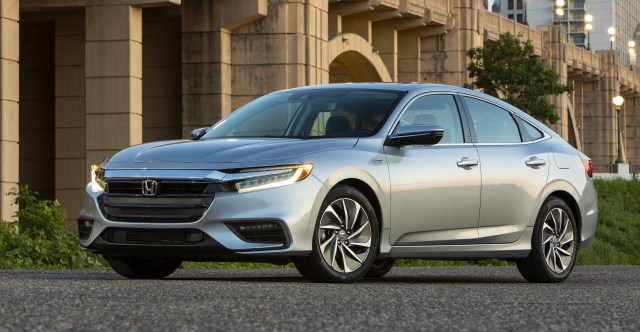 Honda won four awards overall, including the Ridgeline mid-size pickup, followed by Nissan with three, Lincoln, Tesla, Volvo and Subaru with two each and 10 other brands with one each.
"The Ideal Vehicle Awards recognize vehicles that best meet their owner's expectations and desires," said George Peterson of AutoPacific. "These are vehicles that are 'just right' for their owners."
RELATED
When 'satisfaction guaranteed' is almost automatic
Besides the 25 category winners, AutoPacific named Ram the most ideal brand overall and the most ideal popular brand, while Volvo won overall with the XC60 and most ideal premium brand.
Following are 25 individual categories and their winners:
Passenger cars
Luxury – Lincoln Continental
Luxury EV – Tesla Model 3
Aspirational luxury – Genesis G70
Large – Chrysler 300
Luxury mid-size – Nissan Maxima
Mid-size – Nissan Altima
Premium compact – BMW 2-Series
Compact – Honda Insight
Economy – Honda Fit
Popular EV – Honda Clarity
Sports car – Chevrolet Corvette
Sporty car – Dodge Challenger
SUVs and crossovers
Luxury SUV – Infiniti QX80
Large SUV – Nissan Armada
Mid-size SUV – Jeep Grand Cherokee
Executive luxury crossover – Lincoln Nautilus
Aspirational luxury crossover – Volvo XC60
Premium compact crossover – Volvo XC40
Premium mid-size crossover – Subaru Ascent
Mid-size crossover – Subaru Forester
Compact crossover – Hyundai Kona
Luxury EV crossover – Tesla Model X
Trucks and minivans
Full-size pickup – Ram 1500
Mid-size pickup – Honda Ridgeline
Minivan – Toyota Sienna
The awards are based on results of AutoPacific's New Vehicle Satisfaction Survey in which recent purchasers across all manufacturers rate 14 vehicle attributes based on their desire for change, with vehicles whose owners want the least change ranking highest in their class.