Ford is tough to beat.
At least that's how the latest results of J.D. Power's 2019 U.S. Automotive Performance, Execution and Layout (APEAL) Study shake out.
A survey of owners' attachment to vehicles 90 days after purchase,  the APEAL survey accounts for excitement levels across 77 attributes "ranging from the power they feel when they step on the gas to the sense of comfort and luxury they feel when climbing into the driver's seat."
Ford vehicles earned five of the 22 model-level awards in 20 segments – there was one three-way tie. Winners were its Expedition (large SUV segment), F-150 (large light-duty pickup), Ranger (midsize pickup), Super Duty (large heavy-duty pickup) and Lincoln Navigator (large premium SUV). Overall, Ford was rated one of the best mass-market or mainstream brands.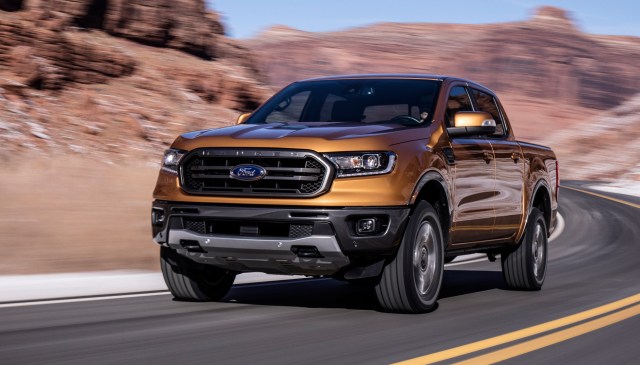 "Every automaker is producing vehicles that consumers like," said Dave Sargent of J.D. Power, "but some of them are doing it at a higher level than others."
No other mass-market brand won more than two segment awards in the APEAL survey.
BMW AG was the leader in popularity among luxury brands, according to the survey, with four model-level winners, the 2 Series (small premium car), X4 (compact premium SUV), and MINI Cooper (compact sporty car) and Countryman (small SUV).
Other mass-market segment winners were General Motors' Chevrolet Blazer (midsize SUV) and GMC Terrain (compact SUV); Honda's Accord (midsize car) and Odyssey (minivan); Nissan's Altima (midsize car) and Maxima (large car), Toyota's Camry (midsize car) and Yaris (small car), Dodge's Challenger (midsize sporty car) and Hyundai's Kia Forte (compact car).
Luxury winners included Volkswagen AG's Audi A7 (midsize premium car named top model overall) and Porsche Cayenne (midsize premium SUV), and Daimler AG's Mercedes-Benz C-Class (premium compact).
Another 31 vehicles from multiple brands finished among the top three in their respective segments.
The top nine brands in the APEAL rankings were luxury marques – Porsche, BMW, Genesis, Audi, Volvo, Land Rover, Lincoln, Mercedes-Benz and Cadillac – with Fiat Chrysler Automobiles' Ram brand the only mainstream brand to crack the top 10 on J.D. Power's 1,000-point scale.
Overall, the survey ranked 21 brands at or above the industry average APEAL index rating of 823 points out of 1,000 – 14 luxury and 7 mass-market brands – and 11 mass-market brands below 823.
The study results are based on 10 categories of performance, execution and layout: exterior; seats; interior; driving dynamics; storage and space; engine/transmission; fuel economy; visibility and safety; heating, ventilation and air conditioning, and audio/communication/entertainment/navigation systems.