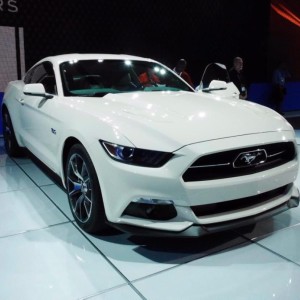 There's no denying the fact that the Ford Mustang is a bona fide piece of Americana. The coupe with the galloping pony on the grille is instantly recognizable. But the Mustang has changed significantly since it debuted at the 1964 New York World's Fair.
The fifth generation car, a redesign for the 2005 model year, harked back to the fastbacks of the late 1960s, when Ford was selling hundreds of thousands of Mustangs every year.
So how would the company commemorate their most iconic car turning 50?
They are looking backward and forward.
At the New York Auto Show, Ford unveiled the Mustang 50 Year Limited Edition – actually a 2015 model. A fitting 1,964 will be produced and all will be based off fully-loaded GT coupes.
Wimbledon White and Kona Blue will be the only colors offered (Mustang 001, a pre-production model that was sold accidently, according to Autoblog, was Wimbledon White). The cars also will receive a retro mustang badge in the grille and a replica gas cap badge on the rear fascia, where "50 Years" will join the GT designation.
The interior will feature a serialized and individually etched "50 Year Limited edition" badge on the passenger side. A cashmere-stitched, leather-wrapped steering wheel and exclusive two-tone cashmere and black leather upholstered seats further differentiate the special-edition coupes.
While the reveal of the 50 Year Limited Edition Mustang is exciting, Ford also will bring its fuel-efficient EcoBoost engine to the Mustang lineup. The new turbo-charged, four-cylinder engine should bring better mpg to the pony car while keeping up performance numbers.
Ford has experienced a lot of success with the EcoBoost technology – which currently is featured on best sellers such as the Focus, Escape and F-150 – and the Mustang EcoBoost demonstrates Ford's determination to improving fuel economy across its entire vehicle range. Unfortunately, Ford has yet to release final performance and mpg numbers for the 2015 models.
Both the Mustang EcoBoost and limited edition will reach Ford showrooms later this year with the rest of the 2015 models. The EcoBoost will start at $25,995, and the 50 Year Limited Edition, which is rumored to be sold out already, will cost a cool $46,995.