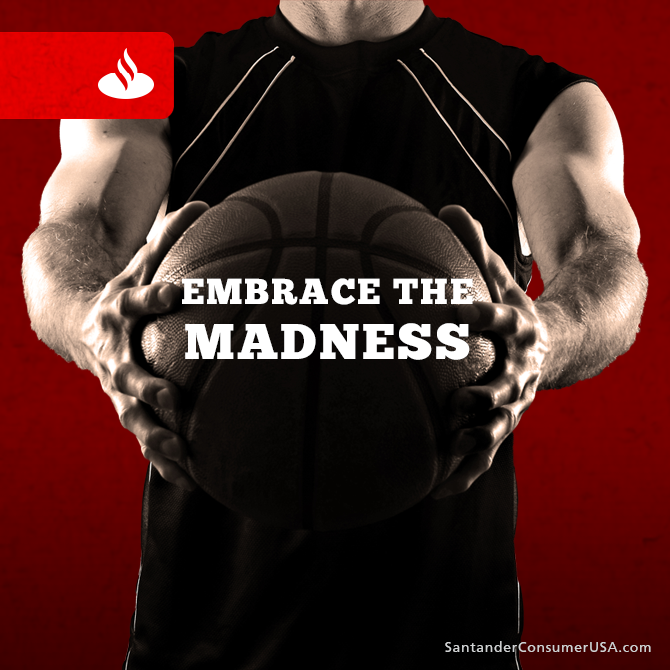 Embrace the Madness.
With three weeks of potential bracket-busting competition ahead, Santander Consumer USA has your ticket to college basketball's big dance.
We're taking the court for our annual March Madness contest, and we want you on the team. If you've entered before, you know the drill, and, if you haven't, it's time to suit up.
Will your favorite team get in? Will the top seeds dominate? Which favorites will go down in early upsets? And who will be this year's Cinderella story – remember the Wichita State Shockers and Florida Gulf Coast Eagles in 2013 or the Dayton Flyers in 2014?
Make your picks immediately after the Selection Sunday show March 13. You have until 12:15 p.m. ET on Thursday, March 17, to sign up. It's a great time with a shot at winning some mad prizes.
There are two ways to log in.
Veterans: If you participated in our Santander Pro Football Pool or other previous pools:
Go to RunYourPool.com
Log in with your Username and Password
Click on "Join an Existing Pool" on the header and enter Pool ID number 15293 and Password drive123 and click the Go button
Click on the "My Account" link on the top right of all pages
Click on "Santander March Madness Pool"
If you can't remember your log in information, you can retrieve it at http://www.runyourpool.com/forgot.cfm.
Rookies: If this is your first time playing ball with us:
Go to RunYourPool.com
Click on "Join an Existing Pool" on the header and enter Pool ID number 15293 and Password drive123 and click the Go button
In the Pool ID box, enter the number 15293
In the Pool Password box, enter drive123
Follow steps to create your account
Don't forget to review your pool settings. Once you've filled in all of your information, select your teams and tune in to see who will take Houston by storm in their race to the Final Four. Winners for each round will be announced throughout the tournament.
Get warmed up and ready to play because tip-off for our tournament pool is just a few weeks away. Here are few dates to remember:
March 13 (Sun): Selection Show on CBS at 5:30 p.m. ET, after which the pick sheet opens.
March 15-16 (Tue & Wed): First Four, play-in games (Not included in pool)
March 17 (Thu) before the first game: your pool's pick deadline
March 17-20 (Thu-Sun): First Weekend (Rounds of 64 and 32)
March 24-25 (Thu & Fri): Sweet Sixteen (Regionals)
March 26-27 (Sat & Sun): Elite Eight (Regionals)
April 2 (Sat): Final Four (NRG Stadium, Houston, TX)
April 4 (Mon): Championship Game (NRG Stadium, Houston, TX)
Log in and set up your account today. You have the chance to take home some great prizes.
The game clock will start soon; don't miss your chance make the big play. Stay on top of all the action and winners by liking us on Facebook.
No purchase necessary. Void where prohibited. The contest ends April 4, 2016.
Participants are subject to "player rules" as described on the RunYourPool.com dashboard. To view official rules, visit https://santanderconsumerusa.com/wp-content/uploads/2016/02/mm16.pdf.